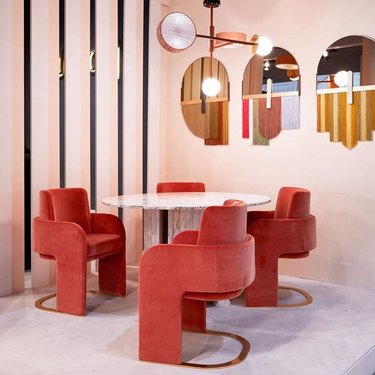 When it comes to interior design trade shows, you just can't get any better than Maison & Objet Paris, or, according to design enthusiasts, the happiest place on Earth. Not only does this biannual event take place in one of the most beautiful cities in the world, but it's filled with the who's who of design brands, all showcasing their latest and greatest collections ranging from furniture to lighting to decor. And if you're thinking that sounds magical, join the club. Sadly, it can't last forever and the January edition (January 17-21) has officially come to a close insert crying eyes emoji here. But before the emotional eating begins, here are some of the hottest design trends spotted at the show.
1. Color, Color, and More Color
While all-white everything will forever be a classic, color is definitely trending right now. And we're not talking subtle, barely there pastels, but rather dramatic, saturated hues that demand to be noticed. The play on color not only creates visual interest in any space, but it also adds a playful element that's full of personality. And luckily, thanks to brands such as Bornn and Noom, it's showing up everywhere. From enamelware to furniture, there will be more than enough ways to incorporate the look into our homes in 2020.
2. Curvy Silhouettes
We know what you're thinking. The love of curves is not anything new, but the trend still seems to be going strong. Everything from furniture to decor to lighting is curvier than ever, and we wholeheartedly approve. After all, soft, shapely forms are a nice way to balance the hard architectural lines of walls and cabinetry, while simultaneously adding dimension. And with gorgeous offerings by brands like Schneid Studio, Dooq, and Ligne Roset, there has never been a better time to jump on the bandwagon.
3. Modular Seating
Curvilinear silhouettes were not the only things spotted at Maison & Objet this year — we also noticed modular seating has gained in popularity. Which makes sense when you think about the fact that most of the rooms in your home serve multiple functions. Additionally, as the size of your home changes, it's nice to have furniture that can transform and evolve with your evergrowing needs. It looks like Ligne Roset and HK Living received the memo loud and clear.
4. Velvet
Another trend that's still going strong? Velvet. And it's not really hard to see why — there is so much to love when it comes to the luxe fabric. The decadent texture, rich, jewel-tone color options, and reflective sheen can instantly transform everyday pieces like pillows, chairs, sofas, and ottomans. And brands such as By Koket, Dooq, and Paulo Antunes Furniture have taken the look to the next level by pairing the handsome material with impeccable craftsmanship, for a finished result that makes you say, "oooh!"
5. Texture
Last but not least, texture was another big trend at Maison & Objet. There were so many gorgeous examples to choose from — including fringe trim, caned accents, woven decor, and laser cut patterns — but these brands especially caught our attention. The imperfect finish of Paola Paronetto's ceramic pendant lights would add a dreamy, handmade look to any space, while Secto Design went the opposite route, with perfectly spaced birch slats that form Scandi-chic lamp shades. And speaking of perfect, we love the rigidity of the pattern cut into the front of the sink by Ex.t. The clean lines impart a restrained sense of playfulness that would look great in any modern bathroom.