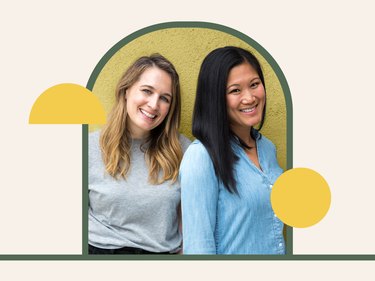 On the Being Home With Hunker podcast we have Teri Fisher, one of the co-founders of Spoon Fork Bacon. Spoon Fork Bacon is site created by Teri Lyn Fisher and Jenny Park, offering easy recipes for breakfast, lunch, and dinner … and beyond.
Teri, a food photographer, says her culinary world opened when she moved to Los Angeles from Idaho. She met Jenny, a food stylist and recipe developer on a set, and after testing and photographing food together, they decided to create Spoon Fork Bacon. Today, they have over 1000 recipes on their site, and are posting new recipes every week. As Teri says, they are always cooking.
In this podcast conversation, food is a main topic. Teri shares the recipes that their audience have loved the most (they sound delicious!). She also shares the recipes that people are usually searching for every January, and the ingredients she and Jenny think will be trending in 2023.
We also talk about how we can set up a kitchen to make it feel more efficient – and Teri has a lot of opinions on this, thankfully! She and Jenny keep things to a minimal: as she says, if you choose well, you don't need many kitchen items.
Teri also shares her must-have kitchen tools, the best pans to have and why she (and Jenny) like them, and her kitchen appliance staples.
Oh, and you won't want to miss her go-to recipe at home. I suspect you might try making it this week.
Learn More About Spoon Fork Bacon
Teri's Table Styling Recommendations
Other Episodes You Might Like
‌Being Home With Hunker‌ ‌is a new podcast where we explore the idea of "home" – not just as a place where you live, but as an expression of your identity. Each week we‌ ‌talk with designers, creatives, and artists about who they are, how they create meaningful spaces, and what "being home" means to them.‌
‌If you like what you hear, please rate and review the podcast, hit subscribe/follow, and share with a friend. When it comes to podcasts word of mouth is how most people will find the show. It really does help. Visit‌ ‌Hunker.com/podcast‌ ‌where you can find, follow, and listen to our show.‌