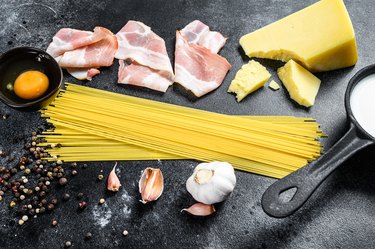 "Pantry pasta" is a catchall term we like to use for crazy-simple pasta recipes that are generally thrown together with stuff mostly from your pantry (although most recipes are enhanced by some fresher ingredients like citrus and cheese). Be prepared to whip up the tastiest (and sneakiest) pasta dishes ever by keeping these essentials in stock at home:
Spices:
Red pepper flakes
Kosher salt
Black pepper
Fennel seeds
Dried oregano
Dried basil
Fresh:
Herbs (parsley, basil)
Lemons
Garlic
Shallots
Onions
Canned fish:
Sardines
Anchovies
Tuna
Alaska salmon
Other non-perishables:
Olives
Capers
Tomato paste
Canned diced or whole tomatoes
Olive oil
Sun dried tomatoes
Nuts (walnuts, almonds)
Canned or dry beans
Dairy
---
Leonora Epstein is Hunker's Senior Director of Content. She has previously served as Executive Editor at HelloGiggles and as BuzzFeed's Deputy Editorial Director. She is the co-author of "X vs. Y: A Culture War, a Love Story" (Abrams, 2014). Feel free to reach out at leonora@hunker.com.