Whether your home office started off as a blank slate or already features a handful of thoughtful decor elements, it's safe to say that now more than ever, this particular room has become more than just an ad hoc workspace. From statement-worthy wallpaper installations to eye-catching light fixtures to chic storage solutions, our personal office spaces have gotten all sorts of design-forward upgrades. And the perfect finishing touch? Wall art, of course.
As you might have guessed, there is no shortage of creative ways to dress up your office walls and bring an extra dose of color and character to your WFH setup, ranging from personal photos to large-scale prints. All of this to say, it can be difficult to decide on the right approach for your space. This is why we have taken the liberty of rounding up eight brilliant wall art ideas to provide a little extra inspiration for your home office makeover.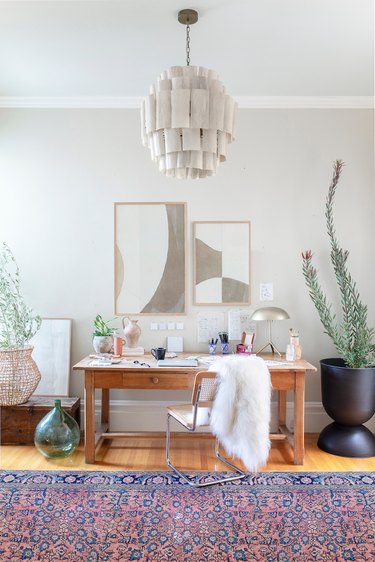 For those who prefer to take the less is more route, a pair of canvases hung side by side can inspire quite an impactful finish. The home office in this remodeled San Francisco rental may come with Victorian bones but a handful of cheeky touches — the two pieces of abstract art, varying in size, and the contemporary planters flanking the desk — instantly modernize the scheme.
If you're looking to make a statement by taking a minimalist approach, an oversize print is certainly one way to go about it. For example, the abstract art in this light-filled Madrid home not only doubles as the focal point of the room but invites a wealth of color to boot. Pops of complementary hues, found on the bookshelves, bring it all together.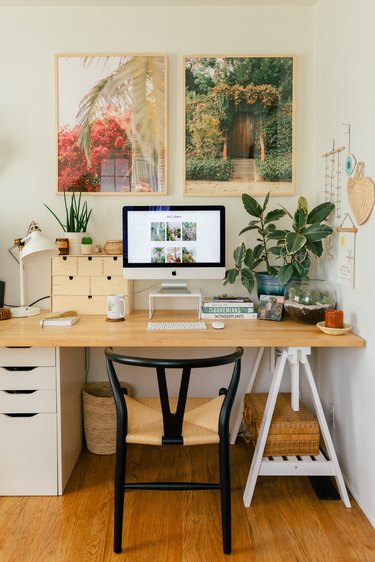 Peruse your camera roll to find inspiration for your home office wall art. We're loving the framed prints hanging above this serene and boho-chic workspace belonging to Sara Toufali of Black and Blooms. Fitting right in with the vibrant array of fresh greens, the photographs feel like a natural extension of the aesthetic. The eclectic array of art pieces hanging on the adjacent wall seal the deal.
4. Go for a bold approach.
When it comes to home decor, it's hard to go wrong with a gallery wall and this rings especially true for an office space. Follow the lead of the creative couple from this New Orleans abode and designate a color palette or thematic motif to further accentuate the display. Stick to two (max three) different frame styles to keep things cohesive.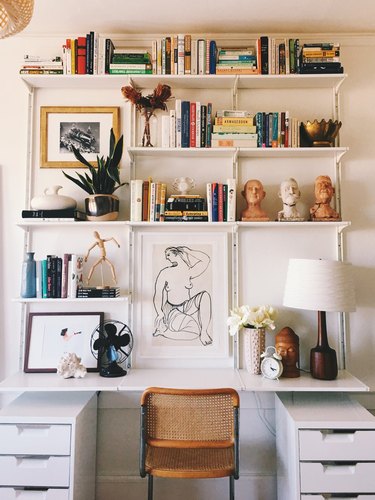 If your home office is comprised of a modular shelving unit, use art prints to flush out the blank wall space in between shelves. Eliza Kern's workspace is a prime example. Go for an eclectic approach by hanging bigger canvas prints and casually leaning smaller works of art against the wall. Complete the look by weaving in sculptures and decorative objects for added interest.
6. Turn it into an accent.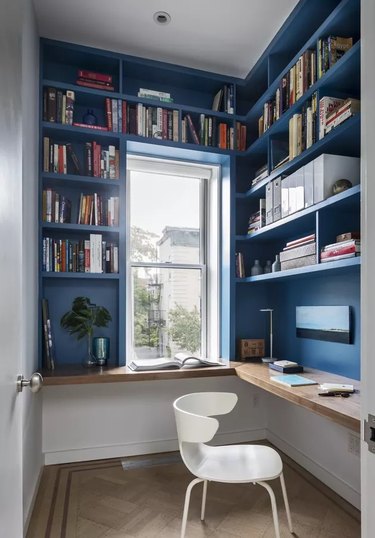 While the monochrome blue shelving may be the focal point of this Brooklyn brownstone's small home office, it's the lone piece of wall art hanging at eye level, just above the floating desk, that sets the tone in the room. Fitting right in with the tonal scheme, the fine art captivates with its cool ocean blues and minimalist vibe.
7. Take a casual approach.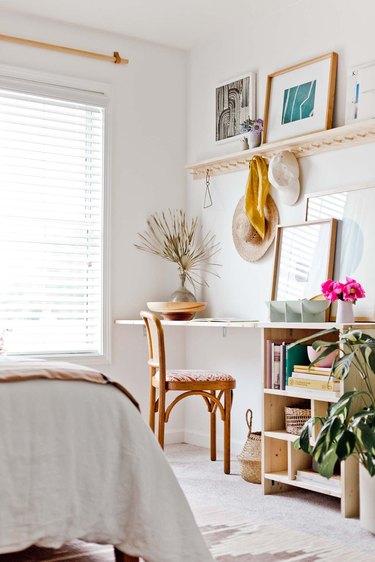 File this under one of our favorite decorating ideas. In lieu of meticulously planning out and measuring where each piece of wall decor will go, take a page from Paper & Stitch's book and go for a casual display — consider it a low-effort gallery wall. Casually stack a few framed prints on the desk and use a floating shelf above as a landing spot for added works of art. Hang a piece or two higher up on the wall to give the eye a sense of movement.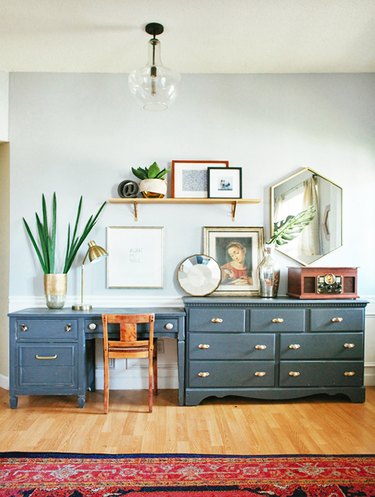 For the home office that's as visually elongated as the one spotted on In Honor of Design, a little creative maneuvering is in order. To keep things cohesive, stretch out the office decor so that it touches all the major elements of the room. Note how the shelf, hanging above the desk and matching dresser, brings the two pieces together. And the best part? It provides a platform to showcase framed art all the while giving ample space below to hang and display even more.