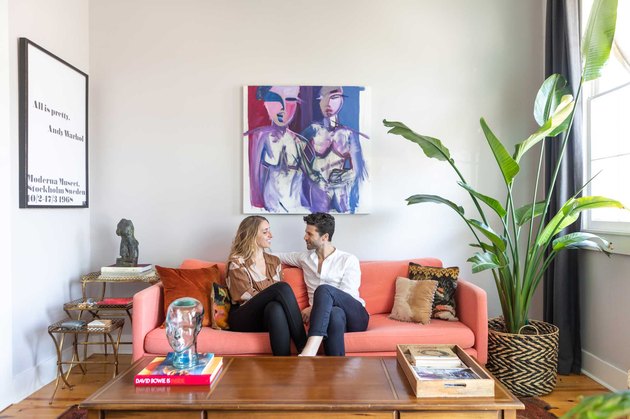 Most people would have run from this New Orleans home in its previous state. The shotgun double house, a type of home with two narrow units that share a central wall, had been cut up into three smaller units and none were up to code. But interior stylist and curriculum designer Alyssa Owens saw potential. "I was immediately drawn to the tall ceilings, wooden floors, exposed brick fireplaces — architectural features characteristic of many old New Orleans homes," says Owens. She embarked on a gut renovation to bring the building to two units, carving out an extra bedroom and bathroom on the side where she lives with her partner, Alex Matthews. She turned the opposite apartment, now a one bedroom, into a rental unit.
Owens tried to salvage as many of the home's original architectural details as she could while still making the space work for modern residents. Traditionally the kitchen is in the rear of a shotgun home, but Owens moved it toward the front and put the bedrooms in the back for privacy. After eight months of construction, the front of the house is now a lively spot for entertaining and the back is a quiet retreat with bedrooms and a study. "As is the case with many renovations, it went slower than I would have liked," she says. "The home ended up being well worth the wait."
1 of 9
Living Room
Owens had to choose a wall color before most of the art and furnishings, so she went with a neutral gray. "Gray is boring to some, but it worked well for this project," she says. "The rooms feel bright and the space cohesive." She added color to the living room with a coral sofa from Article, a Persian rug found on Everything But the House, and a painting by artist JJ Justice. "New Orleans is a loud, vibrant city," she says. "I've tried to reflect that in my decor and art decisions and I incorporate color when I can. I'm lucky to have access to a lot of treasures here. We have great art markets and antiques stores around the city. And the estate sales at ritzy Uptown and French Quarter mansions are just incredible."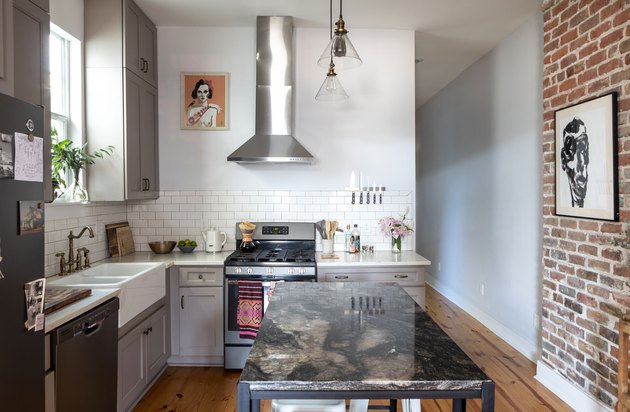 2 of 9
Kitchen
"The centerpiece of the kitchen — and perhaps my favorite thing in the home — is the island," says Owens. "My good friend Zack (of M&Z Renovations) custom built it for me. We dreamt up the design together and then I found a gorgeous slab of cosmos granite at a local supplier. Zach and a metal worker built this beautiful blackened steel base around the stone. I'm in love with it."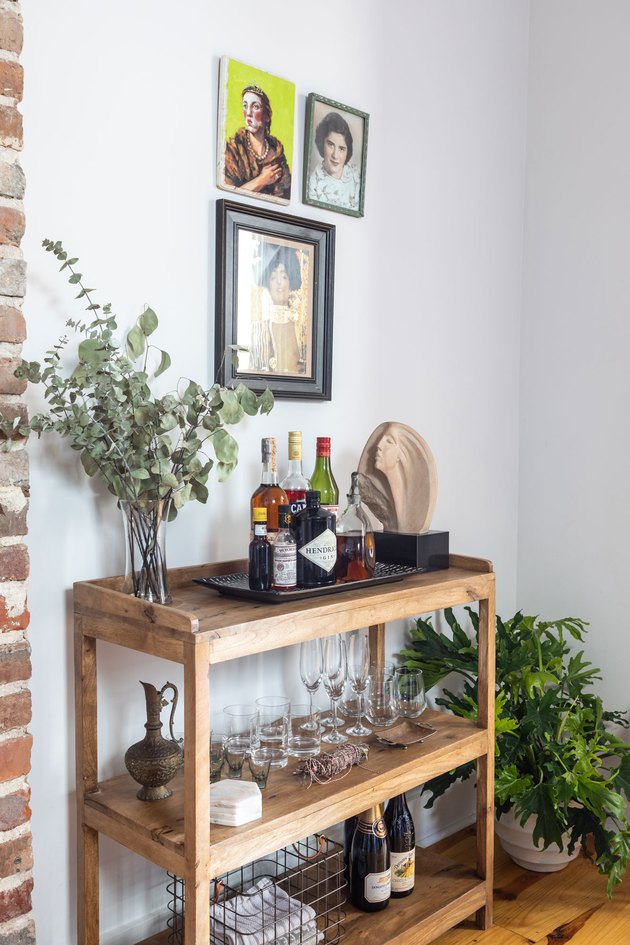 3 of 9
Bar
A trio of portraits, including one of Owens's grandmother, hangs above the wood bar from Nadeau Furniture in the kitchen.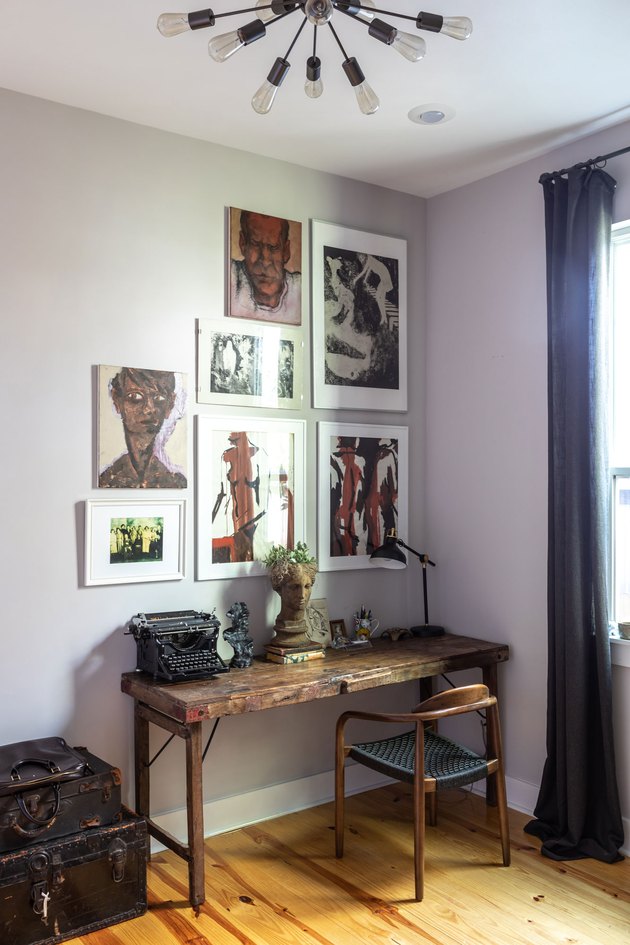 4 of 9
Study
Behind the kitchen is a small study filled with vintage treasures, including a typewriter and trunks from Renaissance Interiors and art from Everything But the House. "I'll never stop hunting for good art," says Owens. "It takes patience, but the payoff is big. I've found that second hand markets and online auction sites like Everything But the House are the best places to find original, affordable work."
5 of 9
Study
"My partner built the corner shelves, which I think help reign in the chaos and pull the room together," she says of the cozy study. "At 10 x 9 ft, it's a small area. Although I originally intended it as a dining room, we very much enjoy using the space to read and work surrounded by things we love." The chandelier was purchased from a movie set sale and the chairs are from Target.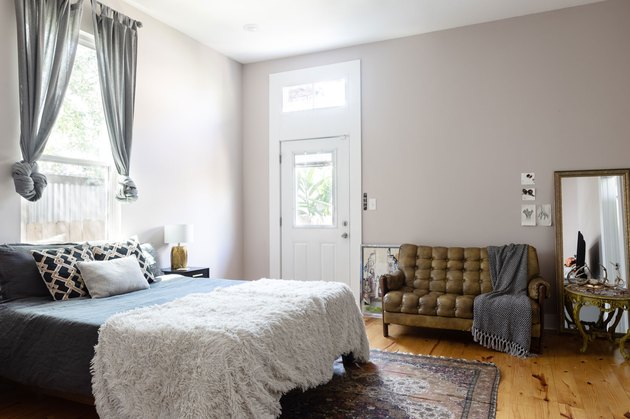 6 of 9
Master Bedroom
Owens found many of the pieces in the master bedroom at flea markets or in thrift shops, including the settee, mirror, framed art, and side table. "I buy second hand whenever possible," says Owens.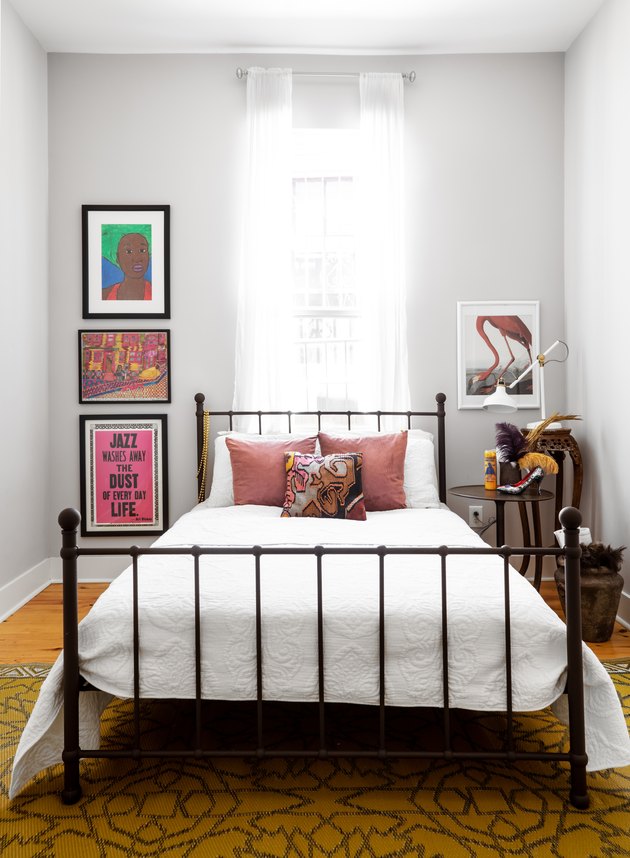 7 of 9
Guest Room
In an interesting move, Owens placed a row of art in the guest room closer to the floor, rather than centering the trio of frames. Thanks to those soothing gray walls, the rest of the eclectic decor doesn't feel overbearing.
8 of 9
Master Bath
"I also spent a lot of time, energy, and resources on the master bathroom," says Owens. "I wanted to create a retreat so I used materials that felt natural." M&Z Renovations built a custom vanity from reclaimed wood, which mixes beautifully with the blue penny tile.
9 of 9
Master Bath
The clawfoot tub is original to the property. Owens had the interior refinished, but left the exterior's patina. "The master bath is beautiful in its simplicity — deep blue tile, dark wood, a rusty black tub, and not much else," says Owens. "The space feels moody and serene."
---
Elizabeth Stamp is a freelance writer in Los Angeles. Her work has appeared in Architectural Digest, Elle Decor, and CNN Style.
View Work