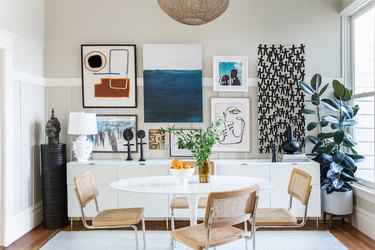 When her husband got a new job in San Francisco, Laura Hur, principal designer at Lorla Studio, found herself moving across the country with a newborn in tow. Since the family would only be in the Bay Area for a couple years, they settled into a rental in Noe Valley and Laura set out to make the space feel like home — fast. "We really wanted a true San Francisco experience, and fell in love with this Stick Victorian rowhouse," says Hur.
The house had plenty of period charm, but since it was a rental, it also had plenty of constraints. Hur envisioned a bright, neutral space with creamy, white walls as the foundation of the design. "To my disappointment, our landlords would not let us paint a single wall," says the designer. "All of the walls are the same beige color throughout — textbook rental home! The color isn't terrible, but there's way too much of it." Fortunately, Hur was able to talk the owners into letting her change up the light fixtures, which went a long way in transforming the space.
---
Elizabeth Stamp is a freelance writer in Los Angeles. Her work has appeared in Architectural Digest, Elle Decor, and CNN Style.