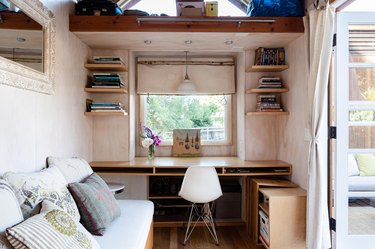 In order to optimize productivity and think clearly, there are two things that you have to do in any office space: declutter and come up with a brilliant storage solution for all those office supplies. Sure, we love design ideas with bookcases and custom built-ins, but there's something about open shelving hung on the walls that really levels up a workspace.
Shelving is a great home office storage idea because everything is out in the open and at your fingertips, which means important items won't get lost in a filing cabinet drawer. Plus, styling your shelving with decorative tchotchkes, verdant greenery, and interesting books is just another way to bring charm and personality to your workstation.
Scroll on to find eight wall shelving ideas that you'll want to copy stat in your office.
1. Opt for floating shelves in your home office design.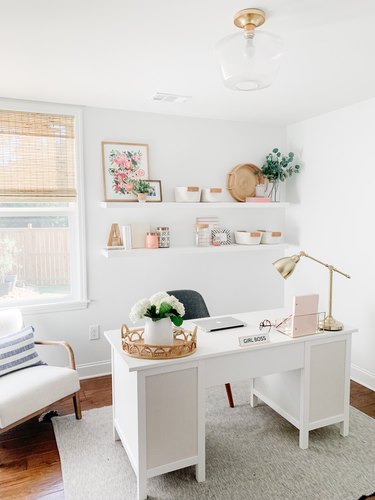 No matter the design style, or how much space, you're working with, floating shelves will always be a home run. They're practical, easy to hang, and minimalist in nature, which means you can dress them up however you like. Amanda Rush Holmes went to IKEA for these shelves, which mesh flawlessly with the white walls. The curated decor is the perfect finishing touch that ties the whole room together.
2. Dress up open shelving with chic brackets.
Shelf brackets are a nice touch if you're hanging open shelving in your office. Luckily, places like Anthropologie, Rejuvenation, and Etsy have some of the most stylish brackets around, turning your office shelves into decorative pieces of wall decor. For instance, Ashley Rose of Sugar & Cloth went with these gleaming brass beauties in this office makeover, resulting in an eye-catching display.
3. Don't forget shelving provides extra storage.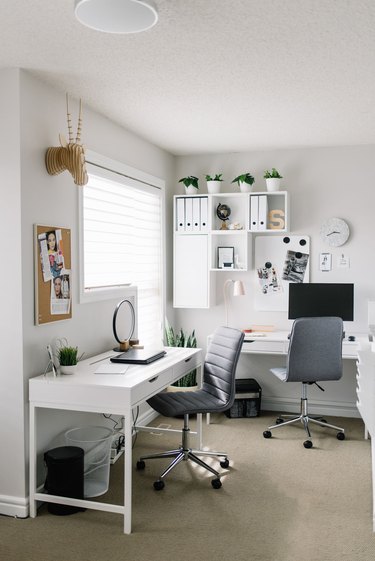 If open shelves don't offer enough storage space for your needs, that's okay — you can buy a wall shelf that includes convenient cubbies and even a cabinet to hide stuff away. That's what the team at Kresswell Interiors chose for this modern office, showcasing wall shelving that acts as a convenient storage solution, too.
4. Go for a vintage look.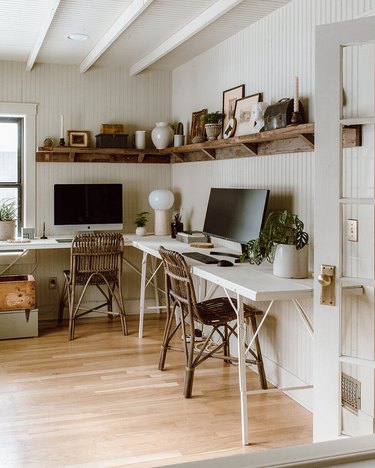 Maybe traditional store-bought shelving simply doesn't interest you. In that case, allow us to suggest vintage wooden shelves for your workspace instead. By using reclaimed wood, you can impart a bygone touch in your office, something that Christine of For the Home mastered in this space.
5. Tuck home office shelving into a corner.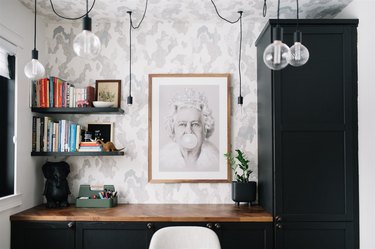 If you don't want to devote a whole office wall to shelving (and you don't have all that much stuff anyway), go with simple floating bookshelves tucked into a corner. It's a trick that Kierstin Smyth Design used in this office, with small wall shelves that don't overpower the visuals.
6. Give your shelves a colorful makeover.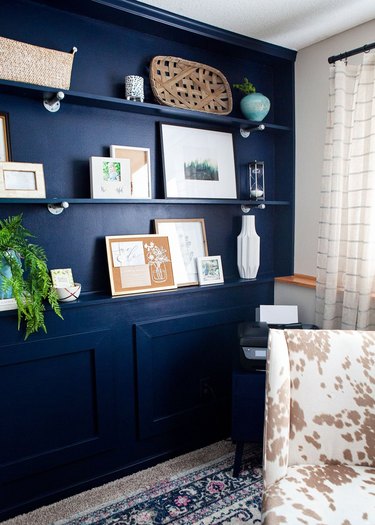 To create a truly monochromatic home office idea, paint your wall shelving the same color as your wall, à la this setup belonging to Melessa of My Daily She. The end result is a cohesive appearance that provides the perfect backdrop for displaying wall art and decorative objects.
7. Consider an off-center arrangement.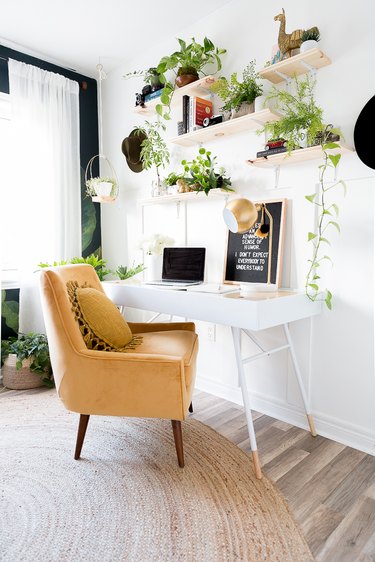 For a boho touch that brings a little bit of quirk to your home office, hang unfinished wood shelves at varying heights on the wall, creating a cool look that's purposely unbalanced. The shelving in this workspace designed by Lucy of Craftberry Bush lends a free-spirited vibe made even better with houseplants and unique decor.
8. Transform a small home office.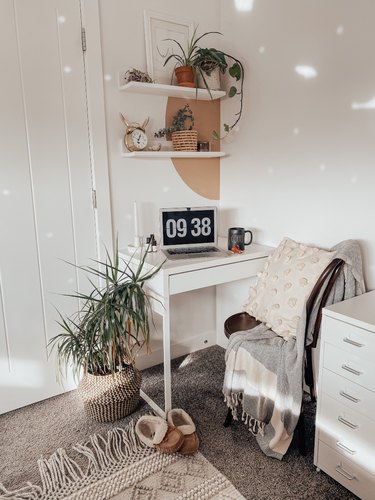 Even in the teeniest of small spaces, you can make wall shelving work. For example, Megan of The Blush Home managed to transform a 30-inch nook into a viable workstation with the help of a petite desk, small-scale shelves, and a painted half circle on the wall.