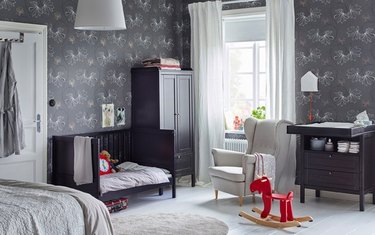 If you're about to embark on the adventure of parenthood for the first time or just want to refresh your baby's room, adding whimsical or modern nursery wallpaper is never a bad idea. Whether you prefer pastels, polka dots, or even a black and white color scheme, there's a wallpaper to match your style. Plus, you can create an entire mood for your little one's space with a pattern that's unexpected. And if the thought of hanging traditional wallcoverings feels a bit daunting, fear not. There are easy peel-and-stick wallpaper designs to make the DIY job much easier, especially if you end up redecorating your kid's room in the future.
Here are 12 wallpaper ideas that will work for any baby room theme — we promise.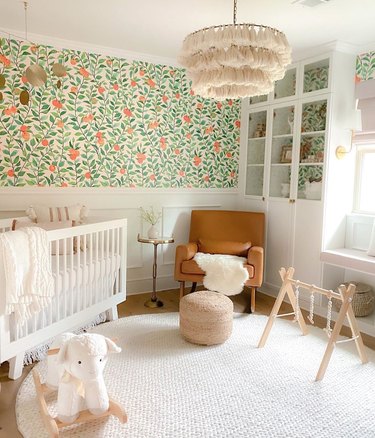 Add a fruit print to your little one's room if you're want to make it feel super sweet. Take this cute baby nursery. It's even more precious thanks to a citrus-themed wallpaper design and wainscoting. And for an extra adorable touch, the pattern continues inside a set of built-ins that holds decor and mementos.
2. Find some leafy greens.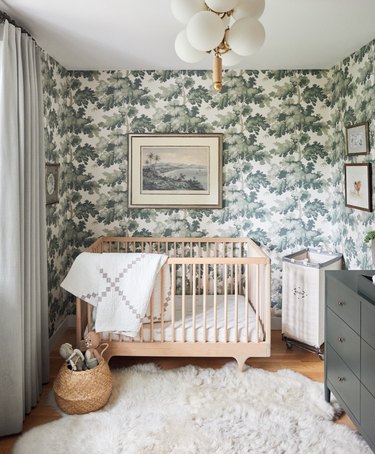 Follow Prospeft Refuge's lead, and add a pastoral touch to your nursery with wallpaper that will make it feel like your tot is napping under the branches of a tranquil tree. For extra points, incorporate a complementary green changing station and a plush rug.
3. Add a touch of elegance.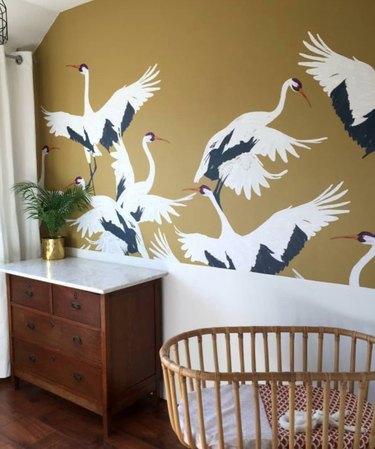 It's okay to add a touch of the classics to a kid's space, and this wallpaper can help you do it. Here, it makes a chic nursery even more elegant, and the feathered friends keep the space feeling fun.
4. Find a place under the palms.
Add a little tropical touch to your tiny tot's room with a palm patterned wallpaper mural like this one. A white crib will be the perfect contrast against a bold print, and your little one will feel like they're on vacation.
If your nursery is on the smaller side, add wallpaper to a tiny nook. You'll create a cozy corner for your baby's crib, and you can mount shelves directly on top for extra storage and organization like Sarah Sherman Samuel did here.
6. Create a subtle floral nursery.
Love wildflowers but don't want a botanical wallpaper pattern to cover every inch of the nursery? Add the feature to only one wall directly behind the crib for a traditional twist. It will be sweet instead of overpowering.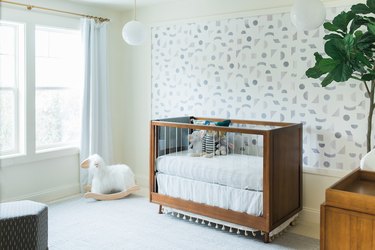 Perfect for a space that features modern home decor, this nursery wallpaper has a cute abstract pattern that perfectly complements a midcentury modern crib. Try a removable wallpaper style that will be easy to change out as your child gets older.
8. Go with some gorgeous gray.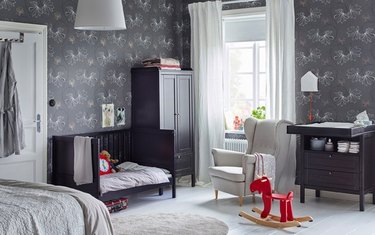 There's no rule that says your nursery design has to be light and bright when it comes to color. In fact, a gray baby room with wallpaper, a modern black crib, and matching changing table will feel super stylish. Even adults will love it.
9. Catch a wave with a blue nursery wall.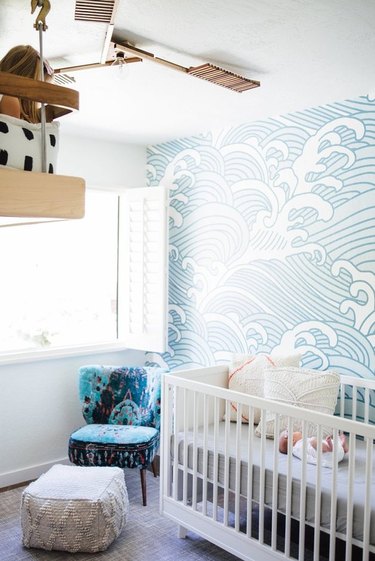 Shades of blue will always create a cheery palette for a nursery room wall mural. Case in point: the wave pattern print in this mix and match ocean-hued space. Try a similar look if your nursery will transition into a playroom in the years to come.
10. Make your nursery neutral.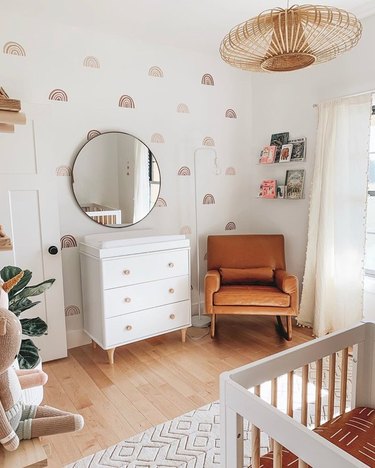 Want a sweet wallpaper design that's not too colorful? Inject multiple neutral tones for the perfect effect like The Warren Haus did here. The rainbow wallpaper features subtle shades of taupe, clay, cream, and rose. And they add the perfect amount of whimsy. You could even recreate a similar look with wall decals.
11. Do a little desert chic.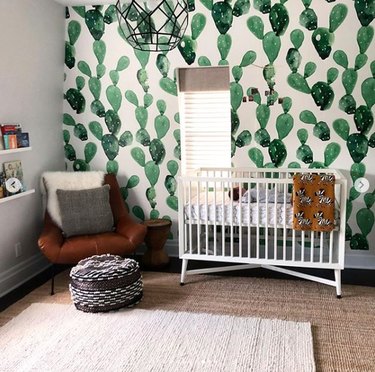 Love the desert look a lot? Well, you can add it to your little one's room with nursery wallpaper that features a trendy cactus or botanical pattern. Cute boho accents and a sweet throw blanket for swaddles will complete the space.
Go for something completely unexpected with a gender-neutral nursery theme. The wallpaper in this space from Herve Goluza looks like a modern art installation, and the bright happy color palette makes everything feel youthful. Try going with a similar look if you're short on space; even a single accent wall with a vibrant pattern will pack a punch.