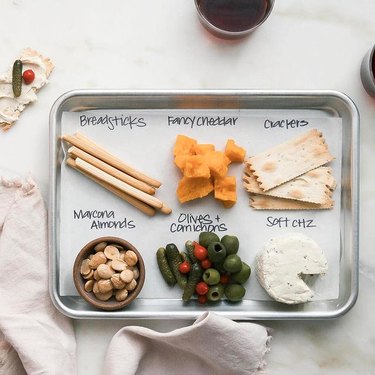 We love any excuse to munch on mouthwatering snacks and appetizers, and the Super Bowl is no exception. Even this year, when our celebrations will be smaller than they normally are, we can still enjoy the best foods that game day has to offer. That's why we curated a list of delicious Super Bowl snacks and appetizers for just one or two people. They're mostly savory with a few sweet surprises.
1. A Cozy Kitchen Cheese Plate for Two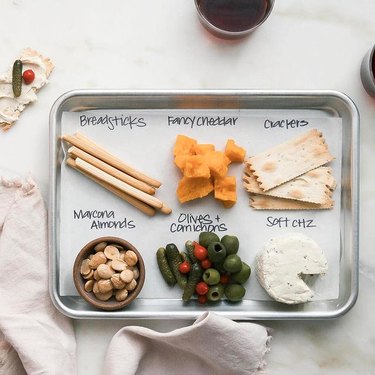 No matter the occasion, you can never go wrong with a cheese plate — especially when it contains nutty, sweet, or pickled sides.
2. Homemade in the Kitchen Curry Baked Chicken Wings
It simply wouldn't be the Super Bowl without wings. This recipe creates a batch of 12, which makes it perfect for either sharing or leftovers.
3. Table for Two Charred Poblano and Peppered Bacon Guacamole
This dip can be served with tortilla chips, pita chips, pretzels, and anything else your heart desires.
4. Mexico In My Kitchen Mexican Nachos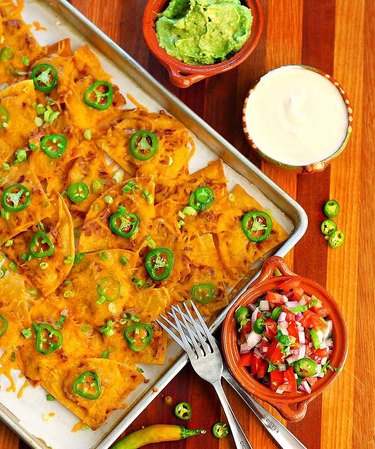 Featuring refried beans, jalapeño, cheddar cheese, and green onions, these nachos are already making us drool. Just make sure you change the serving slider to one or two so that you're not left with leftovers (which wouldn't exactly be a bad thing).
5. Kawaling Pinoy Baked Cheese Shrimp
Just cut the recipe in half and you are golden (like these tasty shrimps).
6. Simply LaKita Soft Pretzels
After adjusting the serving slider to one or two, what you'll get is an eight-ingredient recipe for pretzels served with honey mustard sauce.
7. Budget Bytes Pizza Roll Ups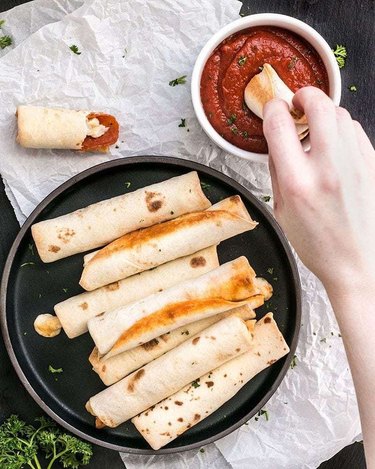 At $0.93 per serving, this affordable appetizer option can easily be adjusted for one or two people (just move the serving slider above the recipe).
8. Iowa Girl Eats Small Batch Chex Mix
This savory, gluten-free Chex Mix recipe only produces four cups of mix, making it perfect for one or two people to snack on while watching the game.
9. Jessica in the Kitchen Mango Habanero Cauliflower Wings
This vegan recipe takes less than an hour to create — just make sure you adjust the servings (aka cut the recipe in half).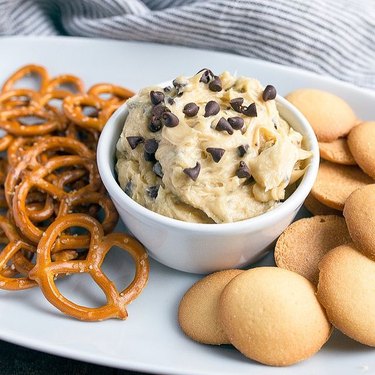 For those moments when you're craving something sweet, this cookie dough dip will hit the spot. Plus, it's also gluten-free!
11. Cook With Manali Cinnamon Sugar Tortilla Chips with Nutella Dip
It's chips and dip in dessert form — what more could you ask for on Super Bowl Sunday?
---
Anna is a Los Angeles-based writer and editor who covers lifestyle and design content for Hunker. She's written for Apartment Therapy, the L.A. Times, Forge, and more. She previously worked as the lifestyle editor at HelloGiggles and deputy editor at So Yummy. Her email: anna.gragert@hunker.com