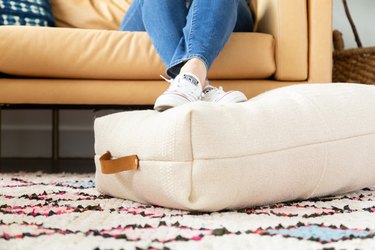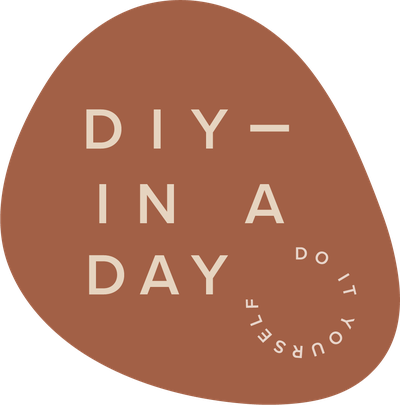 DIY in a Day brings you step-by-step instructions for easy projects that will spruce up your space — within 24 hours (or less!).
Looking for a new durable floor pillow to add to your space This easy DIY IKEA hack is the perfect home decor project! In this tutorial, we used two $3.99 SORTSO cotton rugs and easily sewed them together to create a beautiful cushion cover. (No zipper necessary!) You can either hand stitch or use a sewing machine. Add some scrap leather straps to create handles to give this a higher end look (as if it's an Anthropologie find).
This DIY floor pillow can be used as a boho pouf or ottoman in your living room or pull it up to a coffee table as extra seating. (Note: Your pet will want to take it over as well!)
This floor pillow can be made into a rectangle shape like the original IKEA rug size, or you can cut the rugs into a square shape as well. Either way, it's room decor everyone will love.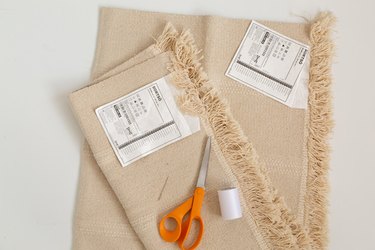 Step 1
Use sharp scissors to trim off the fringe on each end of rugs.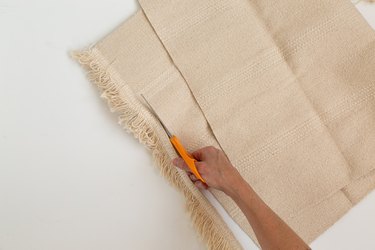 Step 2
Using straight pins, pin the edges of the rugs together, leaving an 8-inch opening on one of the long sides.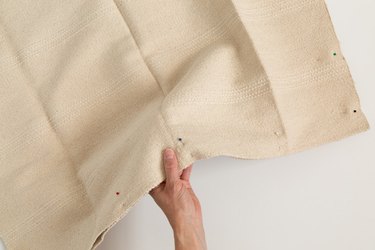 Step 3
You can hand sew the seams together or use a sewing machine. If you use a sewing machine, use a denim needle as the rug fabric is thick.
Step 4
Instead of having a flat floor pillow, we used a boxed corner technique to give the pillow dimension. To create the boxed corners, pull the corner into a triangle, measuring 3 1/2 inches from the tip of the triangle. Draw a line and sew along that line (see photo). Once you sew along the line, trim the excess fabric. Do this on all corners.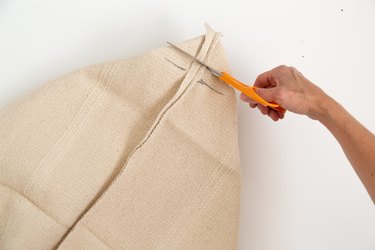 Step 5
After you finished sewing around all sides and leaving the opening, use your hands to pull the inside of the pillow through the opening. You are essentially pulling it inside out.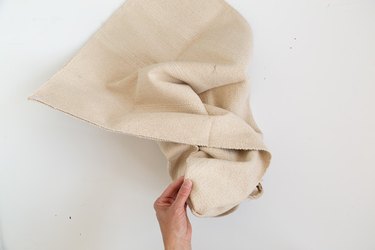 Step 6
Cut leather straps about seven or eight inches long. Using a hole punch, punch two holes on each end of the leather.
Step 7
Using a needle and thicker thread (like embroidery floss), sew the leather handle onto the pillow going through the holes.
Step 8
Add pillow stuffing inside of the pillow. Be sure to stuff into each corner.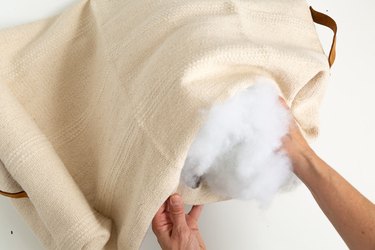 Step 9
Grab your needle and thicker thread (like embroidery floss) and stitch the opening together. Use a ladder stitch.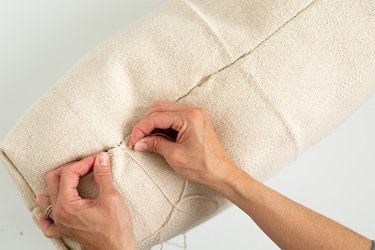 Your rug-to-pillow makeover is now complete. Your cozy DIY pouf is ready to use!