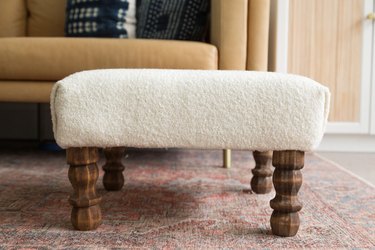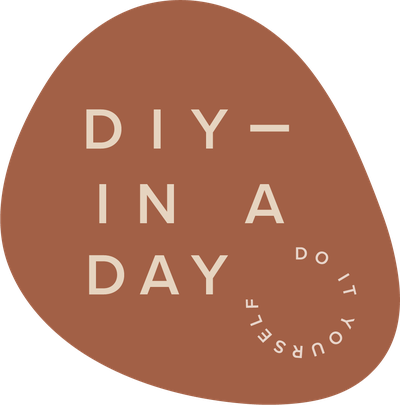 DIY in a Day brings you step-by-step instructions for easy projects that will spruce up your space — within 24 hours (or less!).
You might have been noticing that boucle fabric is having a moment in the design world right now. From accent chairs to benches, pillows, blankets, and more. Boucle has a wonderfully soft texture that is not only comfortable but gives interest in the fabric.
Today we are sharing how to make an ottoman using beautiful boucle. This is a basic woodworking project: you just need a staple gun, saw, foam, and fabric!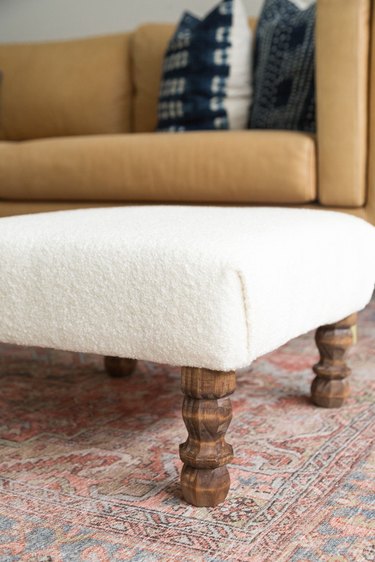 Step 1
Stain the four table legs and allow to dry.
Step 2
You can use a precut 18-by-18-by-4 inch piece of foam, or buy a larger piece and cut down to size. You will also need to cut your thick plywood (or craft board) to 18 by 18 inches in size. You can always ask the hardware store to cut it for you.
Step 3
To add the legs, either drill holes into each corner of the wood and screw in the table legs. Or, if your table legs are short screw ends (less than an inch) you will need to use table leg hardware. Screw those into each corner. This type of hardware has holes that you will screw the legs into.
Step 4
Cut the batting to 26 by 26 inches and lay flat on a surface. Next, place the foam on top of the batting and then place the wood board on top of the foam. Pull the sides of the batting up around the edges and staple onto the wood board. This will secure the foam.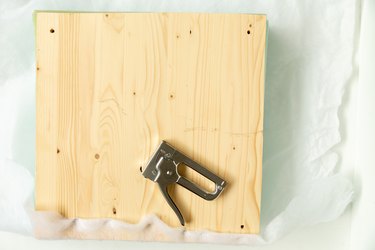 Step 5
Place a piece of boucle fabric (28 by 28 inches) on a flat surface. Then place the foam and wood board on top. Start by stapling one side of boucle fabric to the board. Then move to the opposite side, pulling the boucle tight. When stapling the fabric, be sure to pull it taut, but not excessively, as it will flatten the foam.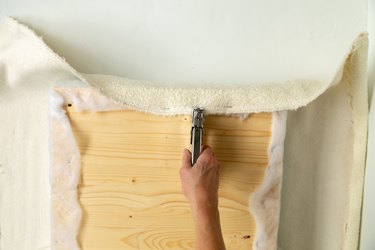 Step 6
Continue stapling. You will want to wrap the corners like a present. (It's important to have clean corners.
Step 7
Trim any excess fabric to make sure you have room to screw in the ottoman furniture legs.
Step 8
Screw in the legs into the hardware or directly into the wood base. If you are not using hardware, add a bit of wood glue to the hole before you screw in the leg.