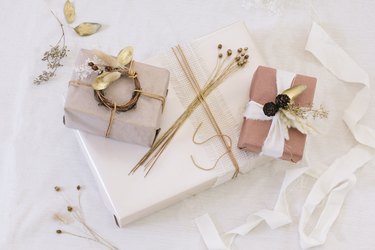 There are those who love gift wrapping and those who find it to be the most daunting task of the holiday season. If you're in the latter camp, we have great news — there are plenty of items you can purchase to make gift wrapping a breeze. We'd call these absolute essentials for lazy gift wrapping and a stress-free holiday season.
These neutral, but still cheerful "Happy Holidays" cards are perfect no matter what holiday your recipient celebrates. Plus, buying them in a pack saves you from having to individually pick out a card for each person on your list.
You could also easily DIY these with folded paper, a set of markers, and some holiday spirit! It would definitely be a fun craft to do with kids.
Skip wrapping paper by opting for gift bags in bulk. While you can purchase these in fun holiday patterns, we like the plain brown version because they are something you can easily personalize with stickers, name tags, and colorful tissue paper.
Whether you're placing your gift in a box, a bag, or finding some way to wrap it with only wrapping or tissue paper, a bow can instantly make the packaging feel festive. Just stick it on and you're good to go!
Hate wrapping paper, but don't want to deliver your presents in a bag or pre-made gift box? Tissue paper is a lot easier to use, since it is flexible enough to cover corners and edges, but can still be festive. For added presentation points, add stickers and throw on a peel 'n stick bow.
Speaking of pre-made gift boxes, that's also an option! You can simply buy a set of gold gift boxes, place the presents inside, throw a ribbon on top, and call it a day. No wrapping paper required.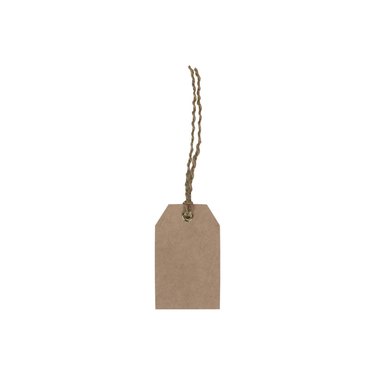 Just like with plain brown gift bags, these name tags are neutral enough to use for any holiday. If you're short on time (and paper), you can even use the tags in place of a card by writing a quick, sweet message on them.
Throughout this article, we've mentioned how you can effortlessly use stickers to decorate an otherwise plain-looking package. Well, we think these glittery snowflake stickers would be perfect for just that.