One of our favorite things about the holidays (well, besides the decorations) is all of the delicious food. But after whipping up a seasonal feast, we usually find ourselves with more than a few leftovers. Luckily, guests tend to be more than happy to take the extra food off of our hands. So this year, rather than just scooping mashed potatoes and stuffing into Ziploc bags, aluminum foil, and old Tupperware, opt for packaging all of your scrumptious extras in these creative and conveniently sized to-go containers instead.
1. Printable Leftover Labels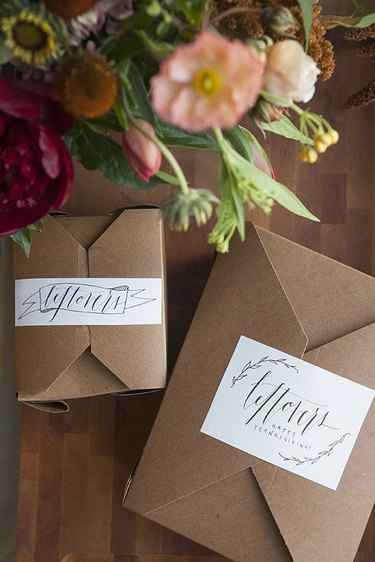 Proof that brown kraft food boxes can actually be pretty. These printable calligraphy-style "leftovers" labels from Jordan Ferney over at Oh Happy Day make 'em totally soiree ready!
3. "Thankful" Tins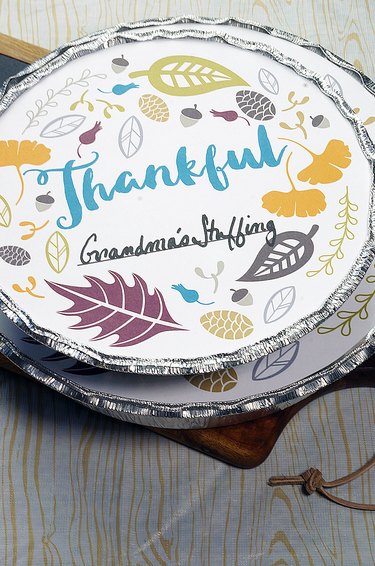 While you might be stuffed after a big Thanksgiving meal, you'll be thankful to have leftovers to scarf down the next day. These festive tins from Sharleen over at Curio are fabulous — basically, a to-go plate with a cover.
3. Takeout Containers
Give classic takeout containers a new lease on life with these printable labels from Alice and Lois. You can even coordinate the colors to go with your holiday tablescape.
4. Square Boxes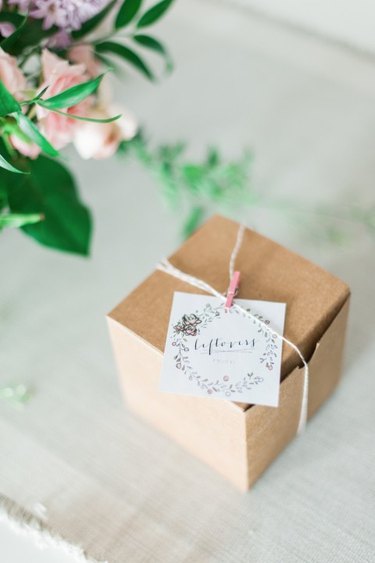 How adorable are these square boxes for leftovers? With a little twine, a mini clothespin, and printable labels from Jacquelyn Clark over at Lark & Linen, you can easily DIY these lovely takeout boxes for your dinner party guests.
5. "Gobble It Up" Tags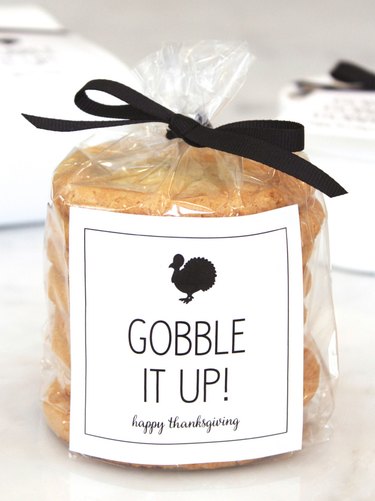 We'd be willing to bet that you already have clear plastic bags and some sort of ribbon on hand. Zhuzh up this everyday duo with "gobble it up" tags from Jenny over at Bloom Designs. So sweet and simple. We love the idea of filling these little bags with candy corn, homemade fudge, or whatever Thanksgiving treats you're serving.
6. Cardboard Pillow Envelopes
Cardboard pillow envelopes, like these from Amy at Inspiration Ave., are a low-cost way to send partygoers home with a little treat, such as mini cookies or macaroons. Consider adorning them with seasonal sayings or personalizing them with guests' names.
7. Decorative Lids
Don't forget to give container lids some love, too. These printable stickers from Jodie and Jen over at Eighteen25 are the perfect size and so cute to boot.
8. Mini Pie Boxes
If you already know folks are going devour all of the desserts, why not go the extra mile and make a special batch as party favors? These "sweetie pie" boxes from Ashley at The Party Girl are the proverbial icing on the cake.
9. Individual Pie Boxes
While there's no guarantee that your guests won't gobble up every last morsel of pumpkin pie ... on the off chance that you do have leftovers, these individual DIY boxes from Caitlin and Manda at The Merrythought are awesome — no matter how you slice it. Sorry, we couldn't resist.
10. Custom Paper Bags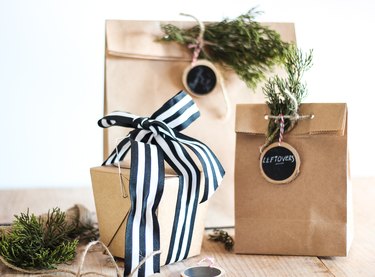 In a pinch? Take a cue from Lucy at Craftberry Bush and transform ordinary paper bags into pretty takeout carriers by simply adding some jute cord, a little greenery, and a mini wood slice label.
11. Plastic Containers
Seeking a sturdier takeaway vessel? Kirstin and Jordan from Kojodesigns opted for these clear plastic containers adorned with festive printable labels for their guests to stash a few side dishes.
12. Gable Box With Utensil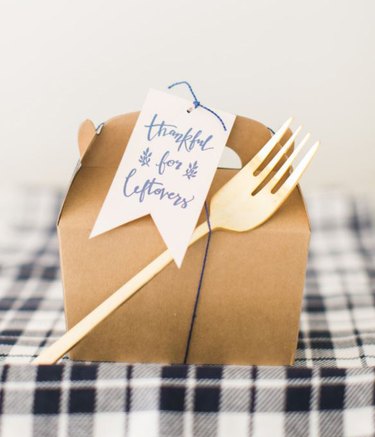 How cute are these DIY gable boxes for leftovers from Style Me Pretty? With a printable tag and a disposable utensil attached using a thin piece of navy string, this bundle of deliciousness is the complete package.