This holiday season, we plan to continue finding new ways to stay entertained at home. Aside from finding shows to watch and browsing gifts for loved ones, we're also looking to the kitchen for inspiration and joy.
Earlier this year, it was all about banana bread, and going into the fall, we were drooling over all the apple bread recipes. But, what about this holiday season? We predict that people will be baking lots of spritz cookies.
The crisp, buttery spritz cookies — which are traditionally vanilla- and almond-flavored — are made using a cookie press that allows the dough to form different shapes. We predict that these cookies will be the baked good of the 2020 holiday season because from November to December last year, Google reports that "spritz cookie recipe" searches were up 850%. Plus, spritz cookies are easy to make, perfect for baking with kids, and can be prepared many different ways. It's a win-win-win!
If you're looking for a great spritz cookie press, we recommend this $32 version from Sur la Table, which comes with 12 different cookie disk shapes. As for recipes, we'll leave our favorites down below.
You can never go wrong with this classic recipe, which requires only seven ingredients and 18 minutes of your time.
If vanilla isn't your flavor of choice, these chocolate spritz beauties from Wild Wild Whisk are sure to be a hit.
There is nothing better than a chai-flavored treat during the holiday season. We will be making these ASAP.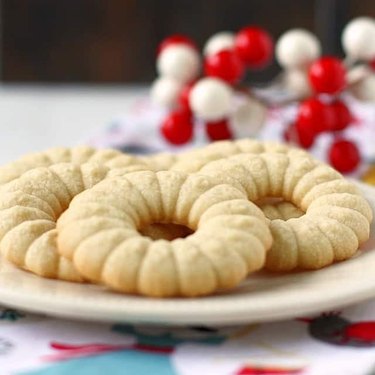 That's right — even if you are vegan or gluten-free, you can enjoy spritz cookies thanks to this recipe from The Pretty Bee.
It wouldn't be the holiday season without gingerbread! Fortunately, you can combine gingerbread cookies and spritz cookies to get the ultimate holiday cookie. Just imagine how sweet your home will smell while these are baking.