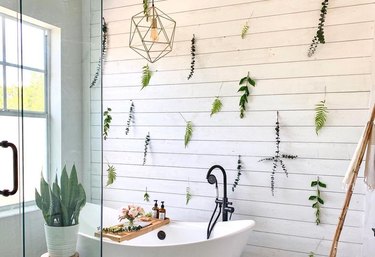 When you live in a rental apartment, it can feel impossible to truly make it your own. After all, you don't want to make any changes that will result in the nightmare that is you not getting your deposit back. However, based on what we've seen on Instagram, being able to make harmless changes in your rental is not just achievable, but also way easier than you might think.
As we continue dreaming up DIY projects to keep us busy during quarantine, we will definitely be stealing the following rental apartment ideas from Instagram.
We love how this fluted wall completely transforms a space, adding texture and dimension, while also being removable. To cover up the screw holes when you're moving out, all you'll need is this drywall hole repair tool.
Tired of the gallery wall trend? Don't want to screw a ton of holes in your walls? This abstract art shelf is definitely the next best thing. The fact that this DIY also involves a relaxing painting session is an added bonus.
If you have an empty nook or corner in your apartment, why not turn it into a cozy reading nook? All you really need is some comfy seating, a reading light (a Himalayan salt lamp would be especially cute), and any other accents that bring out your inner bookworm.
If your space needs a pop of color, but you don't want to paint an entire wall, painting a semi circle or abstract shapes will solve both dilemmas. Just think of all the colors and shapes you can play around with!
While we love the idea of a propagation wall, it feels like a lot of work (and holes) for a rental apartment. Instead, we think a plant cutting wall is more feasible because you can attach the cuttings with washi tape or poster putty, making them easier to remove.
If you're especially experienced with DIY projects involving power tools (or know someone who is), this faux fireplace is a rental apartment dream. You can even place flameless candles beneath the arch for extra zen vibes.
All you need to create stained glass windows in your own home is decorative window film, which is typically less than $25. Genius.
8. Contact Paper Countertops
Just like with window film, you can use removable contact paper to completely transform the countertops in your apartment. We're especially loving this beige marble option at Walmart.
Painting an entire mural on an apartment wall can feel like a lot — especially when you picture painting over it come move-out time. That's why we love the idea of a hanging wall mural, which looks just as cute, but won't take up as much time, energy, or money.