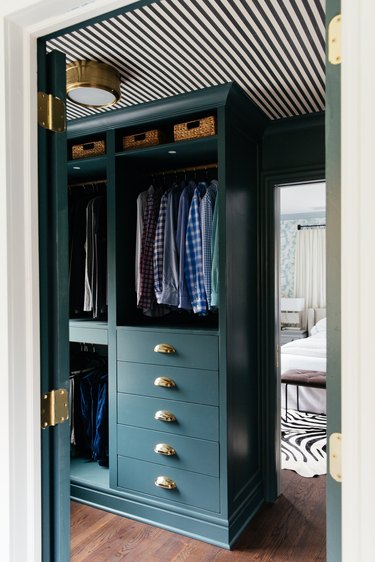 At its most basic, IKEA's Pax system is simply a line of rectangular cabinets. But when you look at all the add-ons — from doors that range from glass to mirrored to Shaker-style as well as interior options like drawers and bins — the Pax can become anything your heart desires, whether it's the bones of a tricked-out walk-in closet, a media system, or covert storage. See how people are using the Pax in real life:
By adding a base to the top and bottom of the Pax with molded details, you can create a floor-to-ceiling look that appears totally custom.
This Instagrammer made their Pax wardrobe look far more upscale by giving it a coat of inky paint (in Farrow & Ball's Railings, to be specific).
3. Put the Pax in an alcove for another built-in look.
You can see exactly how @thee.wolfs.den hacked the Pax for their kid's nursery on their highlights. There was an existing alcove deep enough to house a double-doored Pax, and the shelves were added to the extra space.
4. Fake a bespoke closet.
Photographer Erin Kestenbaum's closet has made the rounds on Instagram and design blogs with good reason — that colorful space is an IKEA Pax hack! You can read all about the transformation on her blog where she details the steps. In a nutshell: "We added baseboards, crown moulding, shoe moulding, recessed puck lights for in-cabinet lighting, refaced the fronts and sides of the wardrobe units with wood strips, added wood drawer fronts, added plugs to cover the unused shelving holes, wallpapered the back of the units, primed and painted everything, then swapped out the metal hanging rods for stained wooden rods, and finally added drawer hardware."
If you don't want a completely uniform look, mix up the fronts you choose. Here you'll see mirrored doors on the left, next to plain panels that got a fun upgrade with new knobs and geometric paint.
7. Add lights to fancify your wardrobe.
If you're looking to use the Pax for clothing storage, consider using the glass fronts to easily locate clothing. As an elegant extra touch, you can also add task lamps to the tops of the cabinets.
You don't need to buy your doors for the Pax at IKEA, as we learned from @hemmainteriors_com who repurposed natural wood louvered doors. They filled up the extra wall space with shelving to add to the custom look.
9. Make a Pax work in the attic.
One of the most common hacks we've seen is people sawing the Pax on a diagonal to fit attic or sloped-roof spaces.
---
Leonora Epstein is Hunker's Senior Director of Content. She has previously served as Executive Editor at HelloGiggles and as BuzzFeed's Deputy Editorial Director. She is the co-author of "X vs. Y: A Culture War, a Love Story" (Abrams, 2014). Feel free to reach out at leonora@hunker.com.