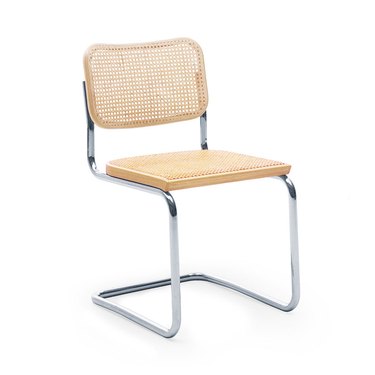 The Cesca chair (pronounced che-skuh) that has recently dominated interior design Instagram feeds and the homes of Bauhaus-loving millennials has been enjoying a renaissance of sorts — even though the timeless chair has been around since 1928. Tastemakers, influencers, and designers are obsessed with this iconic piece, and with over 90 years of history, this trend is showing no signs of slowing down. Created by Hungarian designer Marcel Breuer, creator of the equally beloved Wassily chair, the coveted Cesca has a steel tubular frame and rattan back and seat, offering the perfect blend of function and art. The dual sensibilities allow for the chair to work in almost any design environment, whether it's bohemian, modern, industrial, or Scandinavian. Design-savvy influencers have even moved beyond the dining table, finding new and creative uses for it, such as a bookshelf or a desk chair.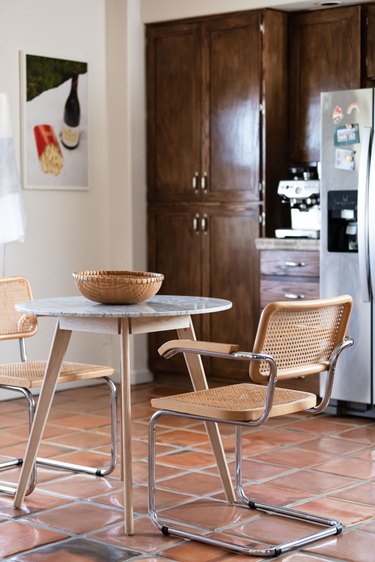 You might find it on Pinterest paired with an Eero Saarinen tulip table, or mixed in with different styles of chairs like the Hans Wegner Wishbone chair, but there are really no hard and fast rules when styling with the Cesca. It's the kind of chair that looks cool wherever you put it. This chair's versatility lies in its simplicity, and the original comes in just two styles: with or without arms and two different frame finishes, Hardwood Beech and Ebonized Beech. It's no surprise, considering both steel and rattan have made their respective returns from their midcentury heyday, so combined they evoke the perfect blend of nostalgia and modernism.
Ironically, the Cesca began as a mass produced item and was considered one of the most common chairs, whereas today it's considered a symbol of artful design taste, with its vintage quality making it appear rare and unique (one of the originals is even on permanent display at the MoMA). In reality, the opposite is true: the design itself is more widespread than ever. Breuer never patented the design, and in 1968 it was purchased by Knoll Group, where an authentic Cesca chair can cost you about $900-$1,500. However, previously-owned Cescas and very convincing knockoffs can be purchased for $300- $500 on sites like eBay, Etsy, and 1stdibs. More recently, larger retailers have taken note and created their own, with similar versions of the chair available at Wayfair, Urban Outfitters, Garmentory, Scanadanvian Designs, and elsewhere. Now you can find Cesca-inspired chairs in a variety of colors as well as bar stools and cushioned seat options.
Never has there been a chair with more mass popularity that appeals to the design world's discerning (and often fickle) taste. Despite its proliferation of knockoffs, it continues to evoke a warmth and elegance, which is a true testament to the design itself. If anything, Breuer would likely delight in its continued widespread popularity. He was a fan of the mainstream, as he once remarked, "mass production ... made me interested in polished metal, in shiny and impeccable lines in space, as new components of our interiors. I considered such polished and curved lines not only symbolic of our modern technology but actually to be technology."
For hardcore devotees of Bauhaus design, you can still purchase authentic Cescas on Knoll's website, but if you're looking for a more affordable option, you can easily find the knockoff versions online or at your local antique store.