In 1951, Lina Bo Bardi designed a chair — but it wasn't just any chair. Bardi created the aptly named "Bowl Chair," whose form is composed of a bowl shape structure nestled within a metal frame.
In a journey that has spanned over 70 years, Bardi's Bowl Chair has been through it, eventually seeing a resurrection of sorts at the furniture design studio Arper in 2012. Now, Arper is celebrating the 10th anniversary of its iteration of Bardi's Bowl Chair, which it created in collaboration with the Instituto Bardi Casa de Vidri.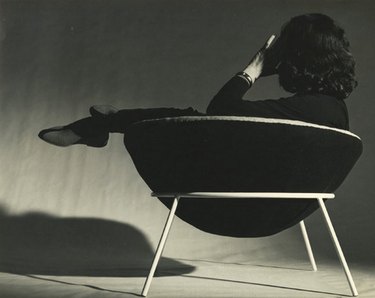 Bardi originally designed the innovative Bowl Chair with flexibility in mind, creating a shape that users could sit within in a variety of positions. While Bardi had aspirations to mass produce the Bowl Chair, these plans were halted, and only two original iterations of the Bowl Chair exist. Both pieces remain at Bardi's former residence and the current headquarters of Instituto Bardi Casa de Vidri, the "Glass House" in São Paulo, Brazil.
In 2011, Arper stepped in to right this wrong, working closely with Instituto Bardi Casa de Vidri to honor Bardi's original design while taking advantage of contemporary manufacturing and techniques. The first Bowl Chair prototype from Arper was presented at the British Council in London as part of the "Lina Bo Bardi: Together" exhibition.
While Bardi's original Bowl Chair was only ever produced in black leather, Arper's reimagination of the chair looked to different fabrics and colors that reflected Bardi's spirit, plus her Italian and Brazilian roots. Arper's version of Bardi's Bowl Chair has since been on display at various museums around the world, including in Italy, Germany, Spain, Portugal, Brazil, and the United Kingdom. It also became part of the collection at Casa de Vidri, right beside Bardi's original prototype.
Arper continues to preserve the legacy of the Bardi Bowl Chair and bring it new life through collaborations with other artists, more exhibitions, and other initiatives. With Bardi's original design at its core and Arper leading on pushing the chair toward even greater heights, the next decade promises to be as fruitful for the iconic design as the last.