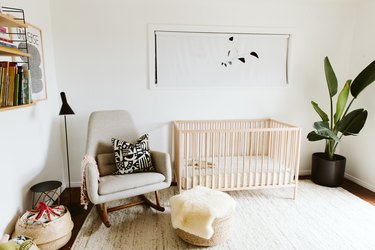 Is there anything more exciting and, let's be honest, nerve-wracking, than preparing for the arrival of a baby? While many things about a baby's arrival will be out of your control, creating a restful, stylish, and most importantly, safe nursery is not one of them. You'll want to ensure that your nursery has vital safety features in place — here's everything you need to know about turning a nursery into a safe and welcoming haven.
Crib and Mattress Safety
A crib is the cornerstone of a nursery and usually the biggest furniture purchase new parents make. It's one of the only spots your baby will actually be left unattended, so securing the area around it is imperative. If you've inherited a crib from a friend or family member, ensure that it was manufactured after 2011, when crib safety guidelines were updated. A crib is not the place to make a big design impact; select one with simple slots that are no more than 2 3/8 inches apart as the foundation of a safe and compliant sleep space. Avoid anything with decorative cutouts and paint, and remove all bumpers, blankets, and toys from inside, which pose a suffocating hazard. Choose a firm and snug-fitting mattress without any gaps wider than 2" between it and the crib and cover it with just a crib sheet.
The crib mattress support should be adjustable so that it can be lowered as your baby grows and masters new tricks like crawling and standing inside. For this reason, you'll want to orient the crib far away from anything they can pull down on themselves or climb onto while they're in their crib, and maintain a safe distance (at least 3 inches) away from drapes, ribbons, blind cords, and decorative wall hangings. Never use string, rope, or cord to hang toys, a diaper stacker, or other items near or on the crib.
Cords
Cords pose one of the biggest threats to curious babies. Buy cordless window coverings or tie them up well out of a baby's reach. Tuck all electrical cords behind furniture and consider using cord shorteners. If you keep a baby monitor or lamp near the crib, make sure there are at least three feet separating them from the crib. If you like the look of a mobile or other decorative feature near the crib, hang them well out of baby's reach.
Walls
Decorating the walls and ceiling with paint and/or wallpaper is a great way to introduce color and infuse personality into a nursery. Whether you're going for a boho, traditional, or modern aesthetic, choose a water-based, lead-free, zero- or low-VOC paint. Many of these also incorporate anti-microbial technology to prevent mildew and mold growth in addition to formaldehyde-reducing benefits that offset VOC emissions from other items in the nursery. Plan ahead so that you can finish all painting and wallpapering at least eight weeks before your baby is expected for maximum aeration. Paints can release potentially harmful fumes, but finishing these tasks early should eliminate any risk to your child.
Toy Storage
Store plush toys in soft, lidless bins and baskets. Babies grow quickly, and before you know it, they'll be getting into everything. Keeping soft toys easily accessible in soft, lidless bins will keep pint-size body parts safe from sudden lid closures and will prevent babies from being accidentally trapped inside.
Cover Outlets
It might seem unnecessary to cover outlets in the room of a person who can't move on their own yet, but tiny baby fingers have a way of finding the unlikeliest of spots, and outlets are one of them. Cover all outlets with outlet covers (great for travel) or sliding outlet covers, which still give you access to outlets but cover them automatically when something is unplugged.
Anchor Furniture
Anchor top-heavy furniture like changing tables and bookcases (and anything taller than 30") to walls to prevent them from toppling on little ones.
Secure Rugs
Rugs are a welcome addition to nurseries: They add softness underfoot and provide a cozy place for babies to crawl and eventually sit. Look for carpeting, rugs, and pads that emit low levels of VOCs, and to prevent buckling, secure rugs to the floor with double-side tape, so they don't slip underfoot when you have baby in your arms.
Windows
If you have windows in your nursery, you'll want to install window guards or window stops to prevent falls — screens just aren't enough. And ensure all furniture is a safe distance from windows to prevent babies from getting too close.
Fire/Hazard Alarms
Ensure your nursery is equipped with an up-to-date smoke alarm and carbon monoxide detector.