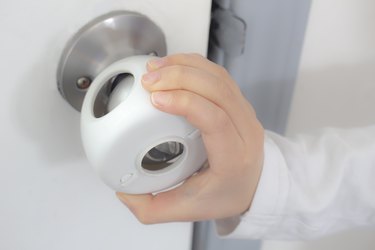 There's no safer place for baby than your home — but it's also full of potentially dangerous hazards that require you to babyproof (particularly from curious toddlers who are notorious for getting into trouble). General babyproofing, such as installing outlet covers on electrical outlets, anchoring furniture and using cordless blinds, applies to all spaces, but other dangers are unique to certain rooms. Using a childproofing checklist helps you hit the most important issues, so you can rest assured that baby will be safe no matter where they decide to nap or play.
It's only natural — most parents put lots of effort into choosing the perfect baby room items, but a more important consideration is how to babyproof the nursery and specifically the crib. Choose a crib that meets Consumer Product Safety Commission standards, especially if you're using an older crib. Recently, the rules have changed to prevent drop-side cribs from being manufactured or sold.
Other crib safety guidelines include:
Crib slats no more than 2 3/8 inches apart.


Posts no more than 1/16 inch high to prevent clothes from getting caught.


No cutouts on headboard or footboard.


Firm mattress that fits snugly in the crib.
Additional safety issues should also be addressed. To babyproof your nursery, tackle these issues:
Position the crib away from windows.


Skip blankets, pillows, crib bumpers, stuffed animals and other soft items to keep your baby safe.


Remove mobiles as soon as your baby is old enough to get up on hands and knees.


Avoid hanging heavy decorations over the crib, as they can fall.


Attach the changing pad securely to the changing table.


Put a thick rug with a nonslip back below the changing table to cushion the fall if your baby rolls off.


Install cordless window coverings to prevent strangulation. If the window coverings have blind cords, tie them out of the baby's reach or cut them and add breakaway safety tassels.


Install window guards.


Use a glider instead of a rocking chair to prevent tipping.


Skip decorations with sequins or beads that could break off and become choking hazards.


If any rooms have radiators in them, install radiator covers to prevent burns.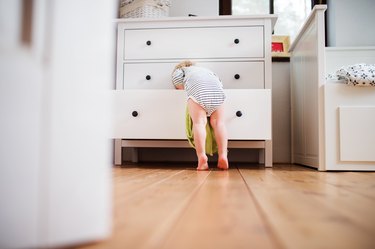 Other bedrooms can also pose a risk to your baby. Keep the bedroom doors closed to keep your child out of the room. Pay special attention to lower items at your child's eye level since those things attract attention.
Your babyproofing checklist for bedrooms should include:
Install a carbon monoxide detector and smoke detector in every bedroom.


Attach nightstands, dressers and other furniture to the wall with a wall anchoring kit.


Consider moving lamps since they can be pulled over easily.


Use safety latches to secure drawers and doors on furniture.


Secure electrical cords to prevent strangulation.


Keep jewelry out of reach. Small jewelry pieces can be choking hazards.
A room full of toys seems like a safe spot for your child, but it can have safety hazards. Toy storage options can be dangerous, both trapping your child and tipping over on top of your child. Windows and electrical outlets are also a concern.
When babyproofing the play room, consider these hazards:
Secure bookcases and toy storage shelves to the wall using an anchoring kit.


Position furniture away from windows to prevent your child from climbing on them and reaching the window.


Install window guards.


Use a toy box with safety hinges that won't slam shut. Make sure it has ventilation holes in case your child gets inside the box.


Place toys low enough for your child to reach easily.
The kitchen is often the hub of activity in the home. It's also full of hazardous things, including water, heat, knives and toxic chemicals, so it requires special attention when you babyproof your home. The household appliances in the kitchen also present potential dangers.
To childproof a kitchen, look at these areas:
Place cabinet locks on all lower cabinets, even ones containing items that seem harmless.


Move kitchen cleaning products to a high location that your child can't access.


Swap out your kitchen cleaning supplies for natural or homemade cleaners to eliminate toxic chemicals.


Install stove knob covers to prevent your child from accidentally turning on burners.


Secure knives and other sharp objects where your child can't reach them.


Put appliance safety latches on your oven, fridge and dishwasher.


Remove magnets from the refrigerator since they can be dangerous choking hazards and can cause serious health problems if swallowed.


Use safety gates to keep your child out of the kitchen if you don't have doors you can close.


Remove the tablecloth from your dining table. If your child pulls on the tablecloth, anything that's on the table can fall on your child.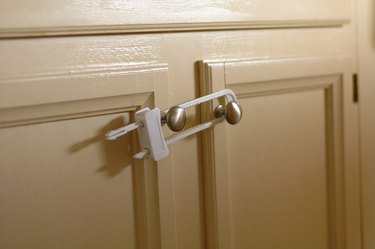 Similar to the kitchen, every bathroom in your home has more dangers for little ones. The many sources of water and the cleaning supplies that are often kept in bathrooms are primary sources of danger. All of the hard surfaces can also cause serious injury if your child falls in the bathroom.
Complete these tasks to make your bathroom safer for your child:
Keep bathroom doors closed with knob covers to keep your child from entering the room unattended.


Install cabinet locks on all doors inside the bathroom.


Store bathroom cleaners on a higher shelf or in a more secure location.


Install a toilet lock and always keep the toilet closed to prevent accidental drowning.


Put all medication, cosmetics and hygiene products inside a locked vanity or medicine cabinet to prevent accidental ingestion.


Lock up razors, nail clippers and other sharp items.


Unplug all appliances, such as hair dryers, and store them in a locked cabinet.


Place a nonskid bath mat on the floor next to the tub to prevent slipping.


Put a spout cover in the tub to prevent head bumps.


Add anti-scalding devices to faucets to prevent accidental burns from hot water during bath time.


Reduce your water heater setting to 120 degrees Fahrenheit or lower as an additional precaution.


Keep a fully stocked first-aid kit in the bathroom.
Babyproofing a Living Room
With so much furniture in the living room, including tables with sharp corners, your baby could be on a collision course with bumps, bruises and more serious head injuries. Adding cushioning to those areas and securing potential hazards keeps the space safer.
Some of the babyproofing precautions to take in the living room include:
Install corner guards on sharp table corners or move your coffee table out of the room while your child is young.


Secure area rugs with nonskid rug pads to keep them from slipping.


Check your houseplants to make sure none of them are toxic. Use nontoxic soil mixes and plant food for your houseplants.


Anchor your TV with security straps or use a TV wall mount to keep it from tipping.


Anchor all furniture that could tip to the wall.


Set up a secure, configurable baby gate or play yard to surround your fireplace. Many have wall brackets to attach them securely and prevent them from tipping, and a gate panel lets you pass through easily to get to your fireplace.


Use fireplace guards on the sharp edges of a raised fireplace hearth.


Move small, decorative items, especially breakable items, to higher shelves where your child can't reach them.


Avoid lamps, which are easy to pull over. If you use floor lamps, position them behind a sofa or other furniture to prevent them from tipping.


Secure cords and keep power strips hidden.
Babyproofing a Laundry Room
Water, heat, large appliances and toxic laundry soap are the main hazards in your laundry room. Keep the door closed using door knob covers to keep your child away. If you have a laundry closet with a bifold door, lock it unless you're actively using the washer or dryer. Special bifold door childproofing locks go over the hinged area at the top of the door to keep it from opening. When you need to get in, simply slide the locking mechanism off the hinged area.
Other laundry room babyproofing tasks include:
Store laundry detergent on a high shelf or in a locked cabinet.


Use the built-in lock on your washer and dryer if they have them or install an appliance door safety lock to keep kids from locking themselves inside.


Position your machines as close to the wall as possible so your child can't fit behind them. Your little one could get stuck or mess with the electrical cords.


Avoid storing anything on top of the washer or dryer. They're tempting to your child, who might reach up and pull them off. The vibrations of the machines can also cause the items to fall.


Don't leave clothes to presoak in a sink or tub, as this presents a drowning hazard.


Secure irons, ironing boards and similar items to keep them from tipping over on your child.


Don't let your kids play with laundry detergent pods or any other items in the laundry room.


Store detergent and other laundry supplies in their original packaging. Placing items in a clear jar or decorative container might make them seem more appealing to your little one.


Do the laundry when your child is napping or being supervised by someone else when possible to keep him away from the laundry room hazards.
Babyproofing Hallways and Stairs
Hallways and stairs can be tempting to your kid. These babyproofing steps can reduce the hazards in those areas:
To keep your little one from going up or down stairs alone, install baby gates at the top and bottom of all stairways. Safety gates that screw into the wall are best, as pressure-mounted gates can come loose if your child leans against them.


Keep doors to rooms off the hallway closed and use doorknob covers to keep them closed.


Use doorstops to keep doors from slamming on little fingers if you leave them open.


Carpet the stairs or attach carpet runners securely to the stairs to give your child better footing.


Install a banister that your child can reach for support while going up and down the stairs.


Check the spacing between the balusters on any railings inside your home. If they are 4 inches apart or more, babyproof the railings by covering them with Plexiglas.
Garages are full of hazards, from sharp tools to hazardous chemicals. Keep your kids out of the garage as much as possible. Secure garage storage systems also help prevent kids from reaching the dangerous items.
In the garage, babyproofing tasks include:
Install door knob covers or safety latches to keep your child out of the garage unattended.


Dispose of hazardous materials you no longer need.


Store remaining hazardous materials, sharp tools and other potential hazards in high cupboards and keep them locked.


Lock your car doors to keep your child out of the vehicle.


Test your garage door to ensure the auto-reverse function works properly. Place a board or wooden block that's shorter than the sensors in the garage door opening. Close the garage door. It should reverse automatically when it hits the board. If it doesn't, it needs to be adjusted, or the garage door opener needs to be replaced. A professional garage door company can help correct this setting.


Test the sensors on the garage door. Place an object in the garage door opening to block the sensors. Try to use the garage door. It shouldn't operate, or it should stop and reverse if it's already closing.


Repeat the garage door tests every month to make sure everything still works correctly. A garage door that doesn't work correctly can be very dangerous and even deadly.
Babyproofing Outdoor Spaces
Make outdoor time with your child fun and injury-free with babyproofing tactics. Start by always supervising your child when outdoors. Even stepping inside for a minute gives your child enough time to get into a dangerous situation.
To make outdoor spaces safer, make these adjustments:
Use Plexiglas or similar material to block railings on decks and balconies with gaps wider than 4 inches.


Keep patio furniture away from railings to prevent a child from climbing up toward the railing.


Check for toxic plants.


Avoid using toxic pesticides and herbicides in your lawn.


Turn buckets or other containers that can collect water upside down when not in use to prevent accidental drowning.


Practice swimming pool safety by installing a secure fence around pools, hot tubs or other water features.


When venturing away from home, always place your child in a car seat in your vehicle. The best baby seat is one designed for your child's height and weight. Babies and toddlers should stay rear-facing until they reach the rear-facing height and weight limit set by the car seat manufacturer.