Things You'll Need
Stud detector

Pencil

Screw

Decor hook
Tip
If you cannot find a sturdy hook, you can always use a nail to hang the wrought iron ornament. Try to find a hook because they are more secure than simple nails.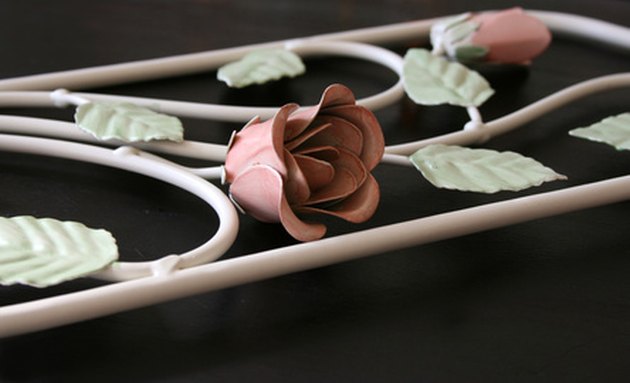 Wrought iron adds classic beauty to your home, but hanging wrought iron décor can pose some difficulties. The heavy iron makes the decorations more likely to fall and cause damage than some of the lighter alternatives. Falling wrought iron can damage the wall it hangs on, the floor below it and even someone in the wrong place at the wrong time. This shouldn't discourage you from hanging the decorations, because if you know how to properly hang the wrought iron ornaments they can actually be quite secure.
Step 1
Pass a stud detector over the wall where you will hang your decorations. Attaching the wrought iron decorations to a wall stud makes them hang more securely, so it is important to know their location instead of just guessing. Mark the location of each stud lightly with a pencil.
Step 2
Examine the back of your wrought iron decor to see if there is a hanging mechanism. If there is not, you will have to hang the decorations using the curves of the artwork to anchor it in place. If there is a hooking mechanism, search for a wall hook that will fit into the mechanism.
Step 3
Screw a decor hook into the wall, securing it to the wall stud. Install it at whatever height you would like to hang the piece of wrought iron decor.
Step 4
Hold the wrought iron decoration against the wall so that either the hanging mechanism or one of curves of the decoration snatches on the hook.
Step 5
Tilt the wrought iron ornament until it sits at the angle you desire.
---
Shae Hazelton is a professional writer whose articles are published on various websites. Her topics of expertise include art history, auto repair, computer science, journalism, home economics, woodworking, financial management, medical pathology and creative crafts. Hazelton is working on her own novel and comic strip while she works as a part-time writer and full time Medical Coding student.