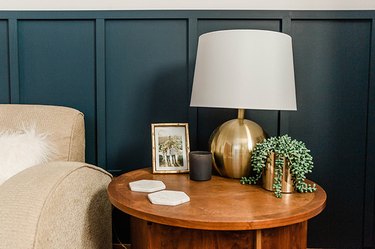 Layering light with different types of lamps creates a warm, inviting space that's also functional when you need to perform various tasks. Lamps offer an easy way to add depth in your lighting scheme. Explore the following types of lamps to complement your ceiling light fixtures.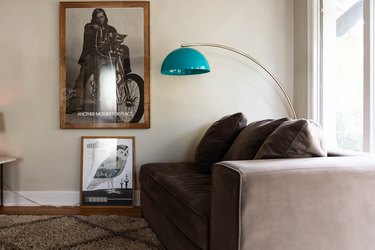 Average floor lamp cost: $50 - $200+
Floor lamps are a classic option that deliver a lot of light to your room. While styles vary, floor lamps typically feature weighted bases to keep them stable, tall main bodies to elevate the light, and one or more lights at the top with or without shades. This allows them to easily fit into corners or between furniture without taking up your table space. Most floor lamps are between 5 and 6 feet tall, but you can find shorter and taller models to fit your space as needed.
You typically get strong ambient lighting from floor lamps, although some models feature spotlight-style lights that give you task lighting. Since the light is higher than with table lamps, it reflects off your ceiling and walls to create brighter illumination. You can find basic floor lamps for under $50 and more intricately detailed models for $200 or more.
Some types of floor lamps include: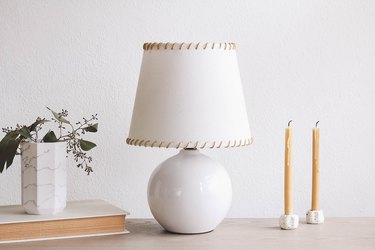 Average table lamp cost: $20 - $500
Versatile table lamps are also popular options for adding light to end tables, console tables, nightstands, and other flat surfaces. They're ideal in living rooms and bedrooms, but they can also work in offices and dining areas. Table lamps cost between $20 and $500 on average, with smaller, basic lamps on the lower end and more extravagant versions, like those made with stained glass, at higher price points.
Table lamps come in various sizes, shapes, and designs with a range of lampshade options to fit your decor. Some table lamp styles include:
Candelabra lamps featuring candle-style light bulb holders
Chandelier lamps with dangling crystal pieces
Novelty or themed lamps
Tiffany-style lamps with stained glass shades
Torchiere lamps that direct light upward
Average specialty lamp cost: $50 - $200+
Outside of traditional table lamps, you can find some specialty options, such as piano lamps and buffet lamps. A piano lamp is designed to illuminate your sheet music when you're playing and they typically feature a small, wide lamp on a curved arm that directs the light downward as it sits above your sheet music. If you want a basic metal or plastic lamp, you can find one for under $50. For a more classic, heavy-duty metal piano lamp, you can expect to pay around $200 or more.
Buffet lamps are also known as candlestick lamps because of their long, thin posts. They're usually taller than traditional table lamps so they can stand well above a buffet or console table and allow for more space on the furniture surface. They often come in pairs, and you can often find sets for around $100, with more intricate designs going up from there.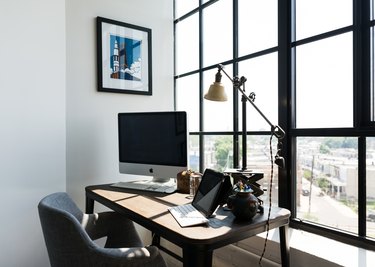 Average desk lamp cost: $20 - $200
If you have a home office or even just a simple workspace where you pay your bills, desk lamps provide ideal lighting for those areas. Instead of providing ambient lighting to brighten the entire room, they're designed specifically as task lighting for activities like working on a computer, reading, drawing, and studying. They provide focused light on your work surface to make those tasks easier.
Small desk lamps start at under $20 if you need something functional and don't care about the aesthetics. High-tech or highly decorative desk lamps can cost $200 or more, with a wide range of options between those price points.
While all desk lamps provide concentrated task lighting, there are a variety of different types of desk lamps, including: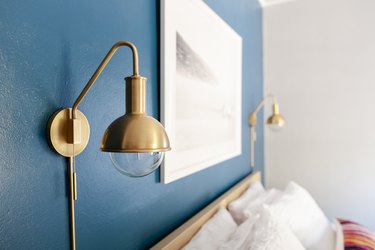 Average wall lamp cost: $50 - $300
If you need lighting ideas for small spaces, wall lamps can be a functional solution. They anchor directly to the wall near a table, seating area, or bed, giving you the illumination you need without taking up table or floor space. They come as fixed or swing-arm lamps in a variety of sizes and styles with various lampshades. The main drawback of this light source is the permanency of the installation; you can't just move it to a different location like you can with a table or floor lamp.
You can find simple wall lamps starting around $50. Upscale wall lamps with high-quality finishes and extra features, like an adjustable arm, can cost $300 or more.
What to Consider When Choosing a Lamp
When choosing different types of lamps, consider your needs. This includes things like:
Available space for a lamp
Type and amount of light you need, such as ambient vs. task lighting
Type of light bulbs you prefer, including LED lights, halogen lamps, and incandescent lamps
Options like a dimmer or adjustable arms
Controls such as push-button or remote
Measure the available space and consider how you use the area to help narrow your options. Experiment with different lamp positions to get the placement right so the lamp illuminates the space and looks aesthetically pleasing.