Things You'll Need
Concrete

Peat moss

Cement

Sand

Vermiculite

Bucket

Trowel

Stirring rod

Garden hose

Misting nozzle

Builder's plastic
Tip
You can purchase pre-cast molds for casting statuary, or make your own molds. To make a mold, find a ready-made statue or free-sculpt your statue using plaster of Paris, modeling clay or other soft material. Then construct a form around the statue by building a wooden box twice the size of the statue out of plywood using a hammer and nails. Pour rubber or latex into the box to make the mold. Once the mold material hardens, remove the box and cut the mold free of the statue in two halves with a utility knife. The mold will fit together along the two halves. You can carve a spout and air vents into the mold, and pour your concrete mix into the mold to cast the form.
You can decorate your statue by painting it, or give the statue an aged look by mixing a solution of egg whites, buttermilk and moss. Paint the solution onto the statue and mist it daily. Moss will begin to grow on the statue within a few days.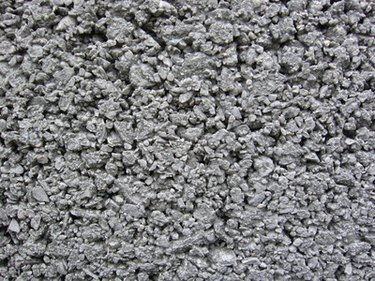 Concrete statuary can be found at most garden centers or home stores. You can use concrete statues as accent pieces for your lawn or garden. If you can't find what you are looking for, an alternative is to make the statue yourself. You can create a lightweight concrete mix for concrete statues using a hypertufa mixture. Hypertufa mixes concrete with peat moss to create a lightweight, porous substance that resembles alpine stone.
Step 1
Mix a dry solution containing equal ratios of concrete and peat moss in a bucket, or combine equal parts cement, sand, vermiculite and peat moss. Cement differs from concrete in that concrete already has aggregate such as sand mixed into it.
Step 2
Add water to the dry mix and stir with a trowel until the ingredients are thoroughly mixed.
Step 3
Pack the mixture into a mold for a statue, or hand-sculpt the statue as if you were working with modeling clay.
Step 4
Mist the statue with water and cover with builder's plastic. Allow the statue to cure and harden for at least 48 hours.
Step 5
Place your statue in your garden.
---
Tracy Morris has been a freelance writer since 2000. She has published novels and numerous online articles. Her work has appeared in national magazines and newspapers including "Ferrets," "CatFancy," "Lexington Herald Leader" and "The Tulsa World." She holds a Bachelor of Arts in journalism from the University of Arkansas.