A pergola serves as a shade, support for climbing plants or to simply add visual interest to a space. Add pergolas to your backyard or patio and use them to sit, relax and entertain. Build these functional architectural pieces from scratch or buy ready-made ones to save on contractor fees.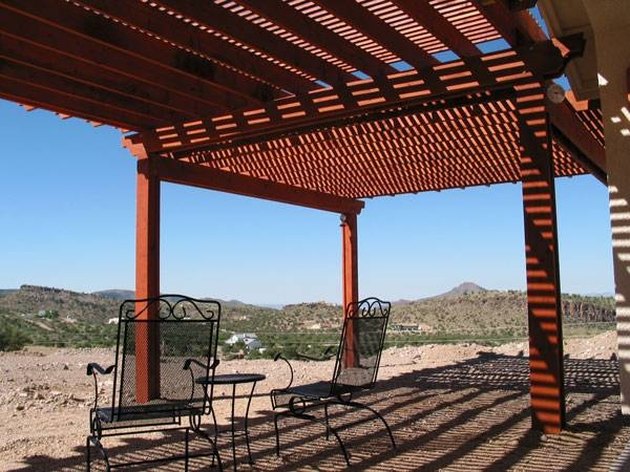 Use wood posts, beams and latticework to create a common type of pergola. Make a square pergola measuring 10 feet long, 10 feet wide and 8 feet high. Cover the top and sides with lattice. Use redwood for longevity and minimal upkeep. Stain or paint your wooden pergola to match your overall design. This type of pergola can provide your entertainment area with privacy and shade.
Use columns to build a pergola. Use four Corinthian- or Roman-style columns made of PVC (polyvinyl chloride) or poured concrete for more strength. Frame the top four sides with wooden beams and add smaller beams or trellises to build the top. Leave the top plain or cover with canvas shade. Pergolas made with columns are excellent choices for traditional or Tuscan style homes. The architectural presence of the columns can add visual impact to your landscaping.
Instead of using flat beams to top your pergola, create the top in an arch style. An arch provides a dome-like curve on top of your pergola to add airiness. Use redwood, steel or iron to build your arch. You can buy ready-made arches made of weather-resistant steel and iron from a garden and home improvement stores. Using this style can give your garden a rustic feel. This type of pergola is a good choice for entryway to the garden or as a pass-through.
Choose a Japanese pergola for an Asian-inspired garden. Choose a cedar or redwood material and stain it red to make it the centerpiece of your garden. Even if your home and garden are not in Asian or Japanese style, you can still use this type of pergola to add beauty to your garden. Place the Japanese pergola between the lawn and flower garden to give the two spaces a transition point. Place potted trailing roses on each side to help anchor the piece and soften its look. Use this pergola to frame a wooden bench or a water fountain.