Things You'll Need
Pine tree branches

Pinecones

Glass vase

Ribbon

Ornaments

Wreath hanger

Glass candleholders

White candles

Pine-scented diffuser
Tip
Consider bringing in a few different store-bought items, like pine-scented candles and air fresheners. The scents complement the natural smell of the pine and spread it to other areas of your home.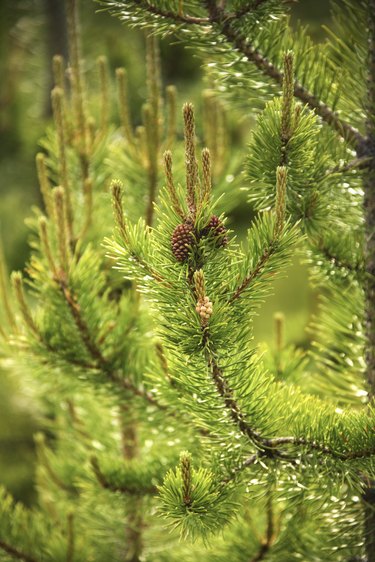 Fresh cut pine tree branches have a scent reminiscent of the holidays. The scent reminds you of Christmas trees, family gatherings and holiday get-togethers with friends. Manufacturers make aerosol sprays and candles that smell similar to the branches but nothing beats the smell of the real thing. Decorating your house with pine tree branches gives your home the light and fresh scent of the outdoors. Display the branches around your house and bring in store-bought items that help the scent spread.
Step 1
Fill a glass vase half full of pinecones. Insert the pine tree branches directly into the vase and rearrange the pinecones, using the pinecones to hold the branches in place. Decorate the piece with a ribbon bow and a few ornaments before displaying near the front door. The smell of pine hits you as soon as you enter the house.
Step 2
Display a second branch on your fireplace mantle, on the coffee table or in another central space of your living room. The gentle scent of the pine slowly moves around the room. Placing one above your fireplace mantle lets the heat of the fireplace release the scent.
Step 3
Create a wreath from two pine tree branches by bending the branches. Overlap the ends of each branch and tie closed with ribbon. Display the branches on a wreath hanger in your kitchen or dining room, which keeps the scent moving through the house.
Step 4
Arrange a few pine tree branches in the center of your dining room table, turning the branches into a centerpiece. Place glass candleholders with white candles on both ends and around the branches. The heat from the candles slowly releases the natural scent of the pine.
Step 5
Use a pine-scented diffuser in a central area of your home. The diffuser features rods that sit in a container of pine-scented oil. The rods absorb the oil and release the scent into the air, helping spread the scent of the pine.
---
Jennifer Eblin has been a full-time freelance writer since 2006. Her work has appeared on several websites, including Tool Box Tales and Zonder. Eblin received a master's degree in historic preservation from the Savannah College of Art and Design.