Victory swag valances are appropriate to use in any room. The valances are created by joining two coordinating fabrics together and then gathering the material to form the swags. These valances can be created at home, which offers you the ability to create completely custom window treatments. The victory swag valance has impressive curves along the top and long tails on each side of the window. The tab top valance hangs directly from the curtain rod without additional hardware.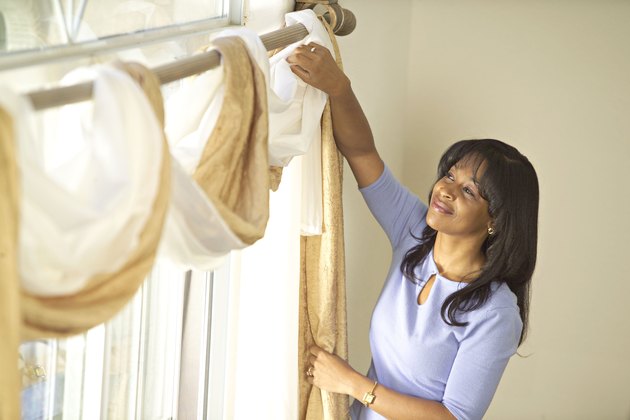 credit:
Brand X Pictures/Brand X Pictures/Getty Images
Step 1
Hang the curtain rod according to packaging instructions.
Step 2
Measure the length of the curtain rods, and multiply by three. Determine the length of the tails and multiply by two. Add these two numbers. Add 1 inch for hems. This is your fabric width requirement.
Step 3
Start at the top of your rod, and measure to the point you want the valance to hang. Add 1 inch for hems. This is your fabric length requirement.
Step 1
Cut the print fabric to the fabric width and length requirements. Fabric panels may be sewn together to meet the width requirement. Cut the lining fabric the same measurements as the print fabric.
Step 2
Place the print fabric on a flat surface with the right side up. From the left edge to the right, measure the tail's length plus ½ inch. Mark this point with a pencil along the top. Measure 18 inches from this point. Make a second mark. This is the first tab. Measure 13½ inches over and place a mark. This is the first swag. Repeat this pattern twice more. Measure 18 inches over and mark. The remaining fabric is the length of the tail and the hem.
Step 3
Mark the center of each tab.
Step 4
Situate the lining fabric straight on top of the main fabric with the right sides together. Pin the layers together. Stitch around all four sides with a ½-inch seam. Leave a 10-inch gap at the top for turning. Turn the inside out, and stitch the gap closed with your hand needle and thread. Press.
Step 5
Lay the fabric on a table with the print side up. Begin at the first tab, grasp the top edge at the tab's center mark. Pull the tab's center up higher than the top edge to gather the tab fabric. Secure the gathered fabric in place with a rubber band. Repeat for all other tabs. Adjust the tabs to identical lengths. Swags will form between the tabs.
Step 6
Fold the tab to the back. Insert the tip of the tab into the rubber band. Tie a piece of ribbon around the rubber band.
Step 7
Insert the curtain rod through the tabs. Hang the rod in place. Space the tabs evenly across the rod.