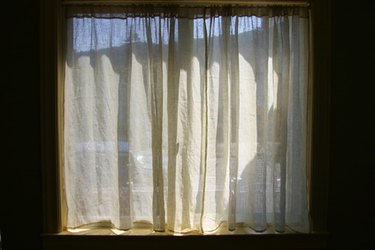 One important issue to consider when creating window treatments is privacy. Most homes require privacy coverings of some kind to prevent passersby from peaking into windows. Privacy window treatments also prevent potential thieves from taking note of items of value inside the home. Privacy window treatments come in all forms--cloth, wood, metal, vinyl and almost any other material imaginable. Even with privacy as a goal, there is no end to stylish options.
Privacy Curtains
Privacy curtains are one of the best kinds of curtains to use for privacy. Privacy curtains block out the light and prevent people from seeing into your house. Sometimes privacy curtains are called blackout curtains because of the amount of light that they block out. Some privacy curtains even block out road noise or other sounds that may travel through the windows. The disadvantage with this kind of curtain is that they block out the light all day, which is undesirable for some people.
Shades
Shades effectively add privacy to any room. Window shades pull down easily when privacy is necessary, and they roll up just as quickly to allow sunlight into the room or to enable you to look out the window. Shades come in many designs and colors and can match nearly every decorating style and theme. Shades are also easy to install. However, shades can crack and tear with extensive use.
Pleated Curtains
Pleated curtains provide a formal, stylish approach to privacy. Pleated curtains create a rich feel any room, though they are traditionally used in bedrooms and living rooms. Other rooms in the house may not be formal enough to carry off the look of pleated curtains. You can simply push back pleated curtains during the day to let light through, and pull them back over the window in the evening for privacy.
Screens
If you're seeking a non-traditional way to add privacy to your room, try a window screen. Screens can be crafted from many materials, but most often are found as a piece of wood or metal that sits inside the window for privacy. Wood screens--often in the form of shutters--are the most popular form of privacy screens.
Layers
You can also easily create privacy by layering curtains. A sheer layer attached to the inside of the window frame can provide privacy while still allowing the light to enter. A heavier curtain placed on the outside of the frame will provide interest, and can be drawn across the window anytime for added privacy.
Blinds
Blinds are one of the most commonly used forms of privacy window treatments. Blinds are inexpensive and come in almost any color. Metal, plastic and wood blinds are popular choices. Blinds install on the inside or outside of the window frame, depending on your needs, and can be pulled up out of the way or opened to allow sunlight in when privacy is not an issue.
---
Brenda Priddy has more than 10 years of crafting and design experience, as well as more than six years of professional writing experience. Her work appears in online publications such as Donna Rae at Home, Five Minutes for Going Green and Daily Mayo. Priddy also writes for Archstone Business Solutions and holds an Associate of Arts in English from McLennan Community College.