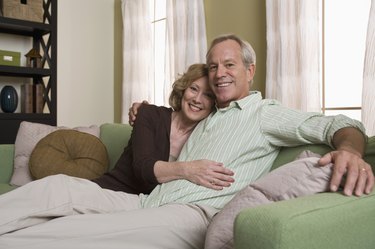 Decorate your den to serve multiple purposes, such as turning it into an extra bedroom if you're short on sleeping space or a temporary retreat if you have guests coming. Decorate the space with the primary function of the room serving as your guide. For example, privacy will be more important for a semi-permanent bedroom.
Privacy
Install tracks on the ceiling along the opening that separates the den from the rest of the house if it only serves as a bedroom sometimes, such as when guests are visiting. Hang curtain panels that complement the makeshift bedroom and the main areas in the home, or hang two panels so each space has its own view. Set up folding screens for a temporary bedroom if you don't want curtains in the den. Install a retractable door in the opening of the den if the space will primarily be used as a bedroom, so the occupant has more privacy, as in a regular bedroom.
Closet
Add closet space to the den that fits the needs of the person who sleeps there. A simple armoire or standalone closet unit can be closed when it's not needed, while designating an entire wall to the closet space is more practical for a person who will call the den her own bedroom. Install a closet shelf system along one wall and hide it from view by installing curtains, setting up folding screens or positioning furniture in front of the makeshift closet to carve out a closet-like space.
Furniture
The furniture in the den will create the feeling of the room. A Murphy bed, sofa bed or futon will work well if you plan to use the room as a den and bedroom, while a daybed or traditional bed will work best if the room will primarily function as a bedroom. Add a shelf with fitted baskets or bins to serve as a makeshift dresser for a temporary bedroom or add chests for a permanent bedroom.
Decor
Decorate the room according to the primary function of the space. Hang mirrors and framed posters, pictures or artwork that complement the rest of the room. If you're planning on making the space serve as a bedroom, it should reflect the taste and personality of the person residing in the room. Use neutral colors that go with the rest of the house if the room serves as a den and spare bedroom. Add plants, candles, pillows, bedding and a rug to make the room feel more comfortable.
---
Janece Bass is a freelance writer specializing in weddings, family, health, parenting, relationships, dating, decorating, travel, music and sports. She has been writing for more than 15 years and has numerous published pieces on various websites and blogs. Bass has also ghostwritten various fiction-based novels.