Cow skulls can be used to add a rustic element to your home, cabin, ranch or landscape. Whether you choose to use one you have on hand or purchase one, options are available. If you are not sold on a plain cow skull, look for a painted one online or paint it yourself to add a pop of color.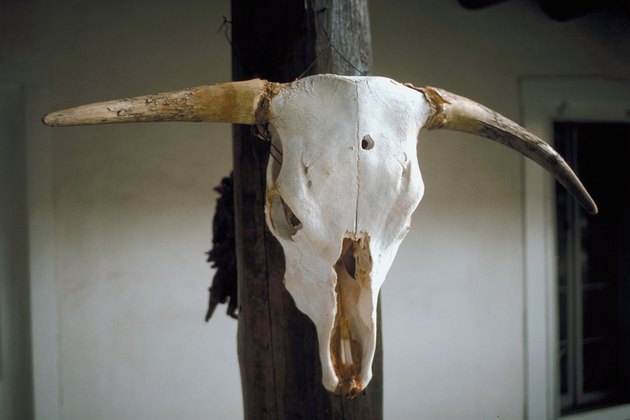 Create a rustic Western mantle display with a cow skull. The skull should be the focal point, but you can place other items around it to fill out the length of the mantle. Angle the cow skull in the direction you deem best to look at, and layer everything else around it. In some cases you might need to prop the skull up to achieve the optimal angle. Include items such as driftwood, cactuses, stones and other Western-style items you have on hand. Another idea is to hang the cow skull directly above the mantle.
Mount the cow skull anywhere in your home for instant rustic appeal. Whether you choose to hang the skull on a post, a door, or a wall, options are available. Create a display of different skulls on a post or beam, displaying them by order of size. Paint each skull with its own color scheme to add color to the room. For a living space, experiment with one skull painted a solid color flanked with two skulls painted with graphic patterns.
Add a cow skull to your landscaping for an Old West look. Create a small vignette near the entrance to your property. Pair an aged wagon wheel with large rocks and a cow skull perched on one of the rocks or hanging on a fence post. For a ranch, include a sandblasted or laser engraved house sign with the family name burned into the wood. Another idea is to hang two skulls, one on either side of a gate leading to your home.
Incorporate a cow skull or two in your outdoor space including your garden, yard or patio. Place a cow skull in a rock garden or in an area set aside for cactuses. You could also hang a cow skull in the entertaining area, above an outdoor fireplace or sitting on a retaining wall. You could also hang the skull on a wooden fence to balance a large scale piece of driftwood, which you can place in another location in the yard. Unify the look by using cow hide as part of the decor scheme.