Things You'll Need
Yellow pine stain chart

Color palette

Metal finishes

Stain sample boards
Tip
Stain large samples of your exact wood to see the finish over a larger area. Place the samples in the home in the locations where the wood will be installed and observe the colors at different times of the day in different lighting conditions. This will help you evaluate the correct color for your application.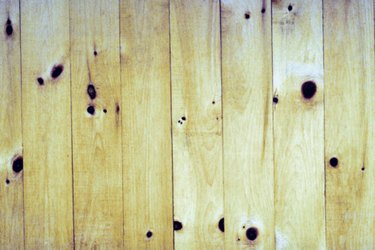 Picking a stain color for some types of wood can be challenging. Yellow pine has a strong yellow undertone, which turns some stains much more orange and yellow. In addition, yellow pine has characteristics which make it difficult to achieve gray undertone stains. Samples should be taken on the specific type and cut of wood with staining in brown shades for the best results. Because of hardness variations and the presence of resins in the wood, additional treatments to open the wood for stains may be necessary to achieve the desired color.
Step 1
Acquire a stain chart for yellow pine. Stain charts are available at the paint counter of most paint and stain stores. Look for a chart that demonstrates stains on the exact type of yellow pine that you are using.
Step 2
Sit down with the color palette for your room or home. If the yellow pine you are going to stain is a type of wood flooring, then the stain color will impact your entire home and all the rooms where the flooring will be present. If the yellow pine is for trim, cabinets or wainscoting, the stain choice may affect only a single room.
Step 3
Buy a stain color that will operate as a neutral and blend with wall color and the largest pieces of furniture. Pay particular attention to other wood furniture that may be placed in the room. Different wood colors may not work well together if the stain on your yellow pine has a strong yellow or orange undertone.
Step 4
Compare hardware colors and furniture styles to the stain colors. Very transparent stains on yellow pine may convey a casual country or rustic style. Darker brown stains may be more neutral and allow for traditional and transitional styles. Take into account how many knots are visible on your board. A board with many knots will look busy and a darker stain may highlight knots.
Step 5
Select hardware for the doors of pine cabinets that will minimize the orange and yellow undertone. Consider dark bronze metallic or black finishes. Avoid finishes that are too gray or brassy.
---
F.R.R. Mallory has been published since 1996, writing books, short stories, articles and essays. She has worked as an architect, restored cars, designed clothing, renovated homes and makes crafts. She is a graduate of the University of California at Berkeley with bachelor's degrees in psychology and English. Her fiction short story "Black Ice" recently won a National Space Society contest.