A programmable home thermostat unit can be an incredibly handy tool and is particularly handy over the course of the summer and winter months. By taking advantage of the unit's time and day temperature scheduling, you can save on energy costs while still ensuring that your home is a comfortable temperature when you're inside, rather than having to come home to an environment that is too hot, too cold or wastefully maintained while no one is present.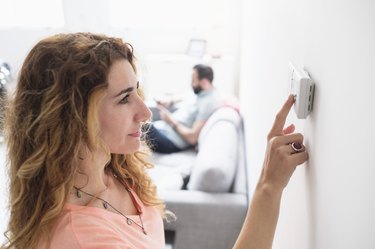 The Honeywell TH4110D1007 is a prime example of this type of simple but useful programmable thermostat, but if it's been a while since you've programmed your schedule or you find yourself moving into a new home with one of these Honeywell thermostats, your old programmed schedule or the last resident's old programmed schedule may not pair well with your current life or even with the current season. Thankfully, the simple interface makes Honeywell thermostat troubleshooting easy. Resetting your Honeywell TH4110D1007 is as simple as holding down two buttons for a few seconds.
Honeywell TH4110D1007 Features
As part of the Pro family of programmable thermostats, the Honeywell TH4110D1007 was designed with energy saving in mind. It's a no-nonsense thermostat with five buttons and two switches on the front. These allow you to set or modify the temperature and switch between heating and cooling functions while also setting the fan between its automated and always-on modes. It's compatible with electric, gas and oil heating systems as set by a switch on the back of the unit, and it can be programmed to set a temperature schedule for each day of the week, focused around four times per day: 6:00 a.m., 8:00 a.m., 6:00 p.m. and 10:00 p.m. The temperature settings for 8:00 a.m. and 10:00 p.m. are perhaps the most important if you're looking to save energy, as these settings will control your home's temperature for the longest spans of time.
Thermostat Setting Storage
You may be inclined to remove the batteries in an attempt to reset your home thermostat, but in the case of the Honeywell TH4110D1007, this will only reset the thermostat's clock, and it won't reset the thermostat scheduling to the default settings. While this may be frustrating, it's actually a beneficial feature. According to the Honeywell Pro 4000 manual, the temperature schedules of each Pro series thermostat unit are stored in the system memory in order to prevent schedule loss in the event of dead batteries.
Resetting Your Thermostat
To reset your thermostat's scheduling, simply hold down both the "SET" and "RUN" buttons for a few seconds to reset the unit to the default settings – a cost-effective heating and cooling schedule suggested by EnergyStar. The thermostat will automatically pull up the scheduling menu, allowing you to customize your home's heating and cooling schedule throughout the week.