Crown molding adds elegance to any room in a home, but is harder to install than other molding types because of the multiple angle cuts required to get a perfect finished product. Making and installing corner blocks makes the crown molding installation process easier because it eliminates cutting or coping the mitered angle cuts. Instead, the molding will butt right up to the corner blocks to form a perfect corner that is easy to install.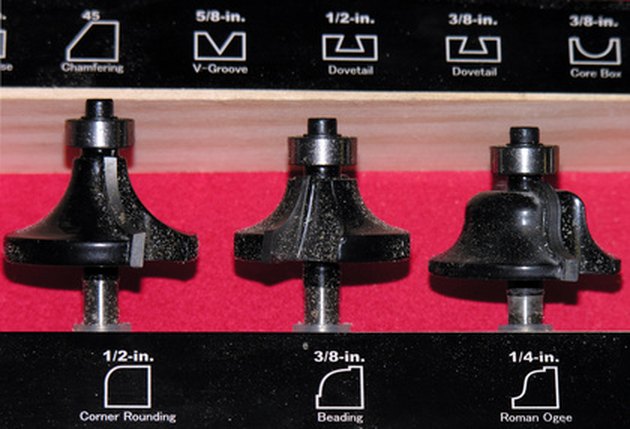 Step 1
Cut a small piece of crown molding with a miter saw. Hold it in place against the ceiling and the wall. Measure the distance from the ceiling down to the bottom of the crown molding. Measure the distance that the crown molding sticks out from the wall to its furthest point. The corner block you make will be 2 to 3 inches longer than the ceiling-to-bottom-molding distance, and will be 1/4 inch deeper than the width of the molding.
Step 2
Cut the 4-inch by 4-inch block of wood the length you measured in Step 1, remembering to add 2 to 3 inches. Cut the block down to the width needed with the miter saw. Make sure that you cut the block so that the widths of the block are even (square).
Step 3
Choose a router bit that will create the decorative edge you want for your corner blocks. Place an end of one block against the fence of the router table and turn on the router. Run the edge through the router blade to create the decorative edge. Push the same edge through one more time to remove imperfections, making sure not to force the wood block through the cutting bit. Rotate the block onto the next side and run the block through the router to complete the decorative edge. The two edges are the only ones that should be decorated.
Step 4
Lightly sand the corner block you made in Step 3 with 120-grit sandpaper. Do not sand the routed area as it may damage the block. Clean the dust off the block with a clean, damp rag.
Step 5
Repeat Steps 2 to 4 for all the corner blocks you need to make.
Step 6
Seal the wood blocks with the same color stain or paint that the crown molding will have once installed. Apply stain with a paint brush, making sure to get the stain or paint into the decorative grooves. Wipe off the stain with a clean, dry rag. Stain the back side of the corner block to seal the wood.
Apply paint with a paint brush, with as little paint on the brush as possible. Apply two coats of paint for full coverage, allowing two hours for drying between coats of paint.