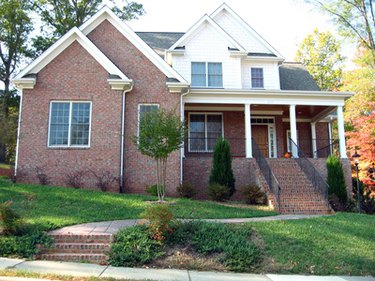 Pink bricks have a soft, muted hue. Visually, pink bricks appear to be light red in color, lighter than standard red brick, which can make finding the right siding color difficult. When searching for the right siding color, examine a variety of paint colors. Hold samples of paint swatches up to the bricks themselves. Once you've narrowed down your choices to one or two preferred colors, paint samples of each on a scrap board and hold the board up to the brick to pick the best color match for your home.
White
You can seldom go wrong with white. It won't clash, it won't stand out, and it won't go in or out of style. In fact, it probably won't make much of an impression at all; in the world of home siding, white is a traditional, conservative color that tends to be ignored by onlookers. If you want to play it safe, white is a risk-free choice. The downside is that white is lacking in personality. A choice of white siding in this context may indicate that you picked it because you couldn't decide on any other colors or just didn't know what you were doing.
Warm Gray
Gray can be a bland color, similar to white. However, choosing a warm-toned gray (that is, gray mixed with just a little bit of a warm color, such as red, pink, orange or yellow) can tie the siding and the brick together, showing that you were keeping the color of your brick in mind when you picked the color for the siding. This way, pink and warm gray become a pair that match, rather than two unrelated colors that were thrown together on your house.
Deep Taupe
A warm, complex neutral like deep taupe adds an element of sophistication to your home. Consider coupling taupe with white or off-white accents. For example, paint the siding and shutters of the house taupe, and paint the gutters white or off-white. Taupe is a classic enough color not to go out of style but is still classy and eye-catching.
Sage
In a way, pink and sage are opposites, just as red and green are opposites on the color wheel. Pairing these two colors on one home creates visual contrast. To cut back on the contrast and indicate that these two colors were in fact meant to go together, use a sage that matches the pink in value. Meaning, the pink should not be any darker or lighter than the sage. This way you can capitalize on the relationship between these two colors while preventing one color from popping out against the other color.
---
Leslie Rose has been a freelance writer publishing with Demand Studios since 2008. In addition to her work as a writer, she is an accomplished painter and experienced art teacher. She has a Bachelor of Arts degree in art with a minor in English.