Things You'll Need
Lattice

Tape measure

2x4-inch wide boards, four

Miter saw

Power screwdriver

4-inch wood screws

2-inch finishing nails

Hammer

Paint or wood stain

Paintbrush or roller

Hinge fixtures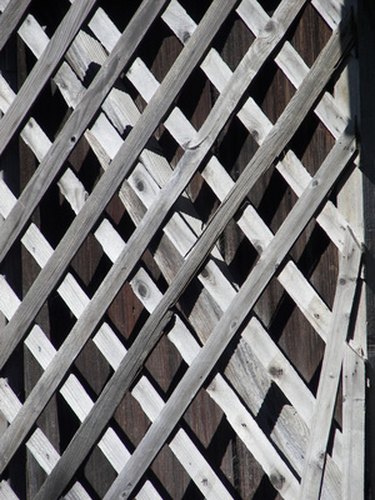 Lattice gates are very easy to build and will require only an hour or two to assemble and hang. Lattice gates can be used with lattice or other types of fences and painted or stained to match the colors of the fence. You can easily build a lattice gate in any size to meet the measurements you require for your outdoor space. Lattice gates can be placed in a fence row or at the entrance to a porch or deck and weather treated to withstand rain and snow.
Step 1
Measure the area in which you wish to place the gate. Subtract approximately 2 inches from the width of the gate, an inch for each side to allow room for the hinge and for the gate to swing open and closed. Make the height any measurement you desire, unless it must fit inside a space, in which case you must allow at least an inch along the bottom and top.
Step 2
Measure and cut two of the 2-inch by 4-inch boards so that they measure the intended height of the gate. Then measure and cut two more pieces that measure 4 inches shorter than the intended width of the gate, so that you can nail these pieces along between the ends of the two height boards.
Step 3
Lay the four wooden pieces onto the floor and place equal pieces parallel to one another. Lay the boards out in a rectangular shape so that the shorter pieces are between the two longer pieces, parallel to one another but perpendicular to the height pieces. Make sure these shorter, width pieces are between the ends of the two height boards and use a power screwdriver and 4-inch wood screws to attach the pieces at the corners.
Step 4
Cut a rectangle shape from the lattice board that measures the width and height of the gate frame from one outside edge to the opposite outside edge. Use 2-inch long finishing nails to attach the lattice piece to the frame by hammering the nails flush with the surface of the lattice board.
Step 5
Paint or stain the front, back and all edges of the lattice board and gate frame that make up the entire gate; a roller may make painting the lattice board a bit easier. Allow the piece to dry overnight and then attach the hinge fixtures to the gate piece first.
Step 6
Have someone help you attach the other ends of each hinge to a post on one side of the gate opening. Have him hold the gate up and into place while you drive screws through the holes in the hinge fixture and into the gate post.
---
Stephanie Daniels is a freelance writer residing in Louisa, Kentucky. Daniels focuses on parenting, children, gardening and home-decor articles. She was the manager of Home Decor for Home Depot for 4 years. Daniels has written for many online publications and enjoys ghostwriting.