A scarf curtain is also referred to as a scarf valance or window scarf. It's a long panel of fabric that is often pieced together from smaller fabric widths. Though simple in construction, the scarf curtain lends itself to a wide range of traditional and contemporary interiors. Just wrapping a scarf curtain around a drapery pole can change the look of any window. A scarf curtain creates balance when it falls symmetrically, or an equal distance from the pole on both sides. A scarf curtain adds a sense of movement when it falls asymmetrically, or lower on one side.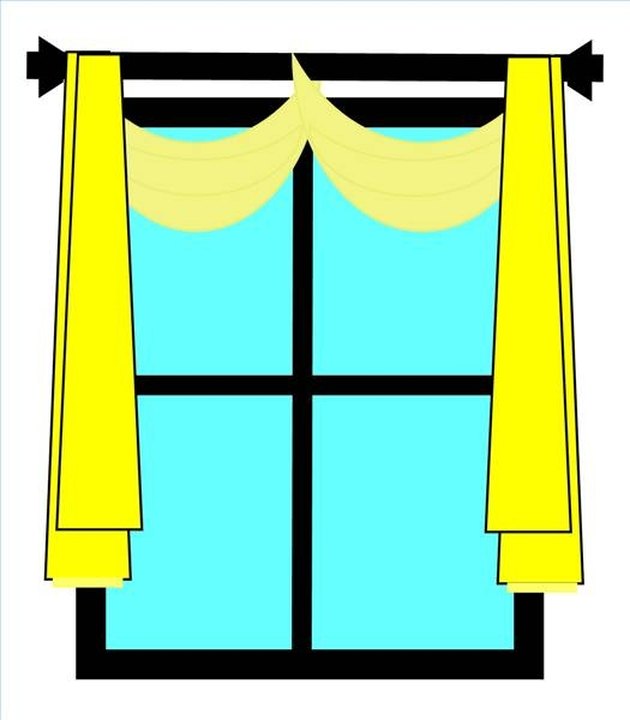 Step 1
Fold the scarf curtain like a fan. Lay the scarf on a flat surface and start folding it at regular intervals so the pleats are of equal depth. Always use a fabric that will fold crisply, such as cotton or linen. It is difficult to wrap a scarf curtain that is made with lightweight or heavyweight fabric because it does not hold folds well.
Step 2
Tie the middle of the folds together temporarily with wired ribbon. If ribbon isn't available, use clamps or paper binder clips.
Step 3
Drape the folded panel diagonally over the center support. If the pole does not have a center support just fold it over the pole.
Step 4
Wrap the fabric hanging on the front side back over the left side of the pole. Make sure the fabric does not cross the finial, or the end piece.
Step 5
Loop the fabric hanging on the back over the right side of the pole.
Step 6
Draw out the folds to arrange the swag.
Step 8
Stand back from the window and adjust the position of the fabric accordingly.
Step 9
Secure the scarf curtain to the rod with double-sided tape. Apply the tape only when the scarf is arranged to your satisfaction. Removing the tape may rearrange the folds.