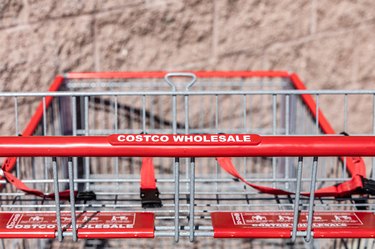 We love a good bite-sized snack, especially when it involves a beloved ingredient: chocolate. If you're in the same boat, you'll be stoked to know that Costco just brought back its mini chocolate chip cookies, according to Costco Fans on Instagram.
These aren't just any old chocolate chip cookies, though. The treats are thin and crispy, making them perfect for satisfying cravings for crunchy snacks. The mini cookies are also made with super simple ingredients, something many shoppers look for these days.
"These are delicious. Plus, if you check out the ingredients, there are no added preservatives," said one Reddit user back in February, when Costco last offered the product.
In case you're wondering, the cookies are made of semi-sweet chocolate chip cookies, flour, butter, sugar, brown sugar, eggs, salt, baking soda, and vanilla extract. They're also nut-free and peanut-free.
Some shoppers even say that the cookies are a dupe for Tate's Bake Shop, a brand that's known for making perfectly crispy cookies. Yet others say the Kirkland Signature version is better than both Tate's Bake Shop and Famous Amos, another company that makes crispy chocolate chip cookies.
Either way, if you're a fan of this cookie style, you'll want to stock up ASAP. The product appears to come back every four to six months (or so), as observed by some users.
According to the Instagram post by Costco Fans, one 24-ounce bag of the Kirkland Signature Thin & Crispy Mini Chocolate Chip Cookies costs $7.99. You can check if your local warehouse has the product in stock by calling Costco; its item number is 1511751.
Ways to eat Kirkland Signature's mini chocolate chip cookies:
Per Costco shoppers, the mini chocolate chip cookies are small enough to be enjoyed as cereal. Just put them in a bowl and add milk of your choice.
You could even use the cookies as a topping for cupcakes or ice cream — or, better yet, use the cookies to make mini ice cream sandwiches. How cute would that be?