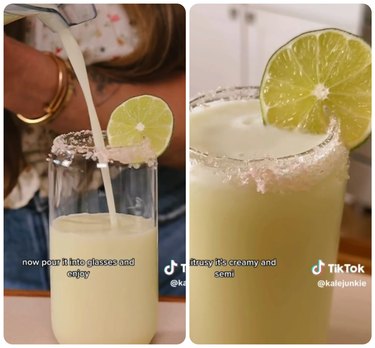 When it comes to classic summer drinks, you truly can't go wrong with lemonade. It's tart, sweet, and deliciously refreshing. But if you're looking to switch things up this season, you might want to try Brazilian lemonade. The drink — which is actually made with limes — has been super popular on social media.
First thing's first: If it's made with limes, why is it called Brazilian lemonade? According to Aline Shaw of Brazilian Kitchen Abroad, a Brazilian food blog, it has to do with the Portuguese word for limes.
In Portuguese, "limao" means "limes." Thus, the drink is called "limonada" — which translates to lemonade in English. (Aren't languages fascinating?)
As Nicole Modic demonstrates on TikTok, Brazilian lemonade consists of four ingredients: limes, sweetened condensed milk, water, and ice. To make it, slice limes into wedges, then add them to a blender (peels and all). Blend with water for about 40 seconds, then strain the mixture.
Add the liquid back to the blender, along with ice and sweetened condensed milk. (You can totally use coconut condensed milk if you want to make this dairy-free.) Blend the mixture once more, then pour it into glasses and serve.
Needless to say, we'll definitely be adding this drink to our summer to-do list. Cheers!
Other ways to make lemonade:
If you love intense lemon flavors, try making lemon zest lemonade. The drink, which was shared by Caroline Gelen on Instagram, involves rubbing lemon zest and sugar together to create a stronger lemon taste.
According to Gelen, sugar's abrasive textures will bring out the fragrant oils in the lemon zest. Who knew?
Some also people recommend adding a dash of salt to lemonade (or limeade) to bring out the sweetness of the drink. Plus, it's helpful for reducing any bitterness, which can happen if you accidentally remove the pith (white part) of a lemon while zesting it.