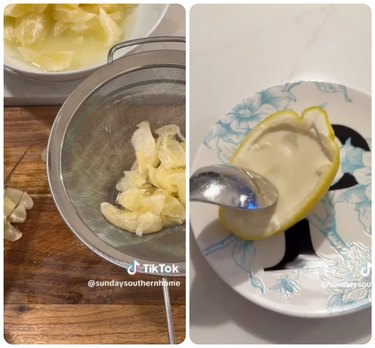 During the spring and summer, there's nothing more refreshing than delicious lemon recipes. However, if you're looking for simple concoctions, you'll be glad to know you're not limited to lemonade. A dessert called lemon posset is currently trending on TikTok, and it's ‌super‌ easy to make.
Lemon posset is a classic British dessert. It's a creamy, no-bake custard-like treat that takes about 10 minutes to prepare. What's more, the recipe uses only five ingredients, which you probably already have at home.
On TikTok, user Kyra Poulos recently demonstrated how to make lemon posset: Simply slice six lemons in half, then scoop out the flesh with a spoon. Poulos recommends using a grapefruit spoon, also called a citrus spoon, which has a tapered end and serrated edges to help scoop out the flesh.
On that note, if you want to serve the lemon posset in the lemon rinds — which looks super cute, BTW — you'll want to keep them intact.
Roughly chop the lemon flesh, then smash the pieces in a strainer to remove the juices. Next, in a pot over medium heat, combine heavy cream, sugar, and lemon zest for about 10 minutes. Avoid boiling the mixture.
Remove the pot from the heat, then stir in the lemon juice and vanilla extract. Pass the mixture through a strainer, transfer the liquid into the lemon rinds, and refrigerate for at least one hour.
The result is a creamy, mouthwatering dessert that tastes as good as it looks. Not to mention, it's a simple recipe that will surely impress your guests.
Personally, we'd love to add a spoonful of lavender buds (or a few drops of lavender extract) to the custard mixture to infuse it with extra flavor. After all, straining the mixture will remove the lavender buds, resulting in a smooth liquid. Sprinkle the pudding with lavender buds and you're good to go.
For the full ingredients list and step-by-step video, check out Poulos' video on TikTok.