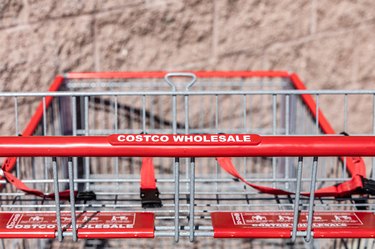 If you love Tajín, you've probably enjoyed the seasoning on myriad foods. The chili lime seasoning, which is made in Mexico, has a delightfully spicy, salty, and citrusy-sweet flavor that will make your taste buds sing. In Mexico, it's most commonly sprinkled on fruit — so it only makes sense that Tajín-coated fruit snacks would appear in stores.
Such is the case at Costco, where you can now buy watermelon gummy candies covered with Tajín. The product is by Snak Club, a brand that creates various fruit gummies with the spice.
And while fresh watermelon with Tajín is a classic and delicious pairing, people have mixed feelings about the treat. On Reddit, some folks thought they were pretty darn tasty, even going so far as calling it their "new favorite candy."
Meanwhile, one Instagram user said: "These are so good! I've been looking lately but my stores have been out for a while now."
However, the rings are vegan, so they're not made of traditional gelatin. This means the texture is different from typical gummy candies, which may be off-putting for some. According to users, the candy is more of a "jelly chew" than a conventional gummy.
If you're not a fan of the texture, try storing the watermelon rings in the refrigerator. As one Reddit user noted, this will improve the texture. Good to know!
Where else can you buy watermelon rings?
Otherwise, if you prefer to try several flavors at once, you'll be glad to know that Snak Candy makes several versions. The candy is also available as peach rings, mango rings, and apple rings, per this Amazon listing.