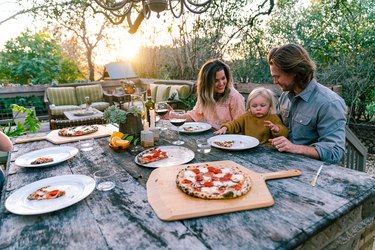 It's official: You've entered your al fresco era and, after a long winter of very weird weather, you intend to keep this state of mind going for as long as possible. You've taken your gym workouts to the park, you're sneaking in 10-minute walks between meetings, and you're itching to host an outdoor soirée.
If you're feeling a bit rusty when it comes to entertaining, close your eyes and envision welcoming your nearest and dearest into an airy, coast-of-California pizza party. Think: Refreshing cocktails, twinkle lights, wafts of fresh herbs and garlic, and most importantly, pizza.
The best part? Pulling it all off is a total breeze (but keep that a secret). Together with Ooni Pizza Ovens, we're laying out the simple essentials you need — yes, with that stuff-of-dreams, Neapolitan-style pizza as the main event — to make your backyard bash a standing event.
Psst: Urban dwellers, this applies to you, too.You can evoke all the al fresco feels even in the coziest apartment, thanks to Ooni's indoor-outdoor Volt 12 Electric Oven. Just follow these steps and you'll be transported to the Cali coast.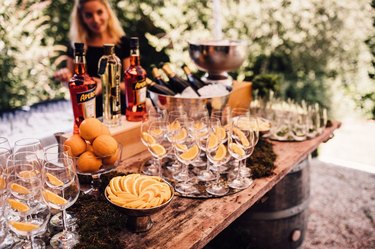 1. Greet your guests with aperitivo.
Nothing says springtime like aperitivo al fresco, and greeting your guests with snacks and sips is a simple way to make your backyard feel welcoming. Set out a selection of Aperol and California wines, and then lead your guests to a DIY station to mix or pour their own bevs, nibble on olives and cheese, and savor bites of bruschetta in the early evening breeze. Pro tip: Keep the grazing going all night — because who says aperitivo can't extend past dinner?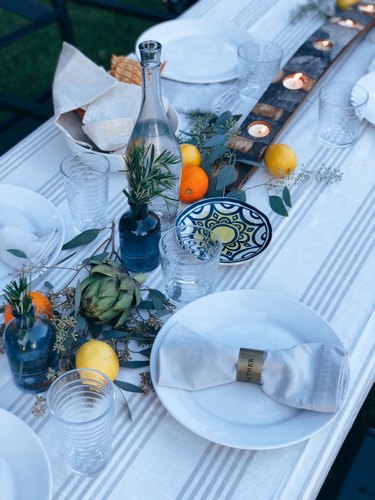 2. Curate a vineyard-inspired tablescape.
To create an airy aesthetic that's equal parts California and coast of Italy, aim for a subtle and sophisticated tablescape. Pair understated linens with outdoor rugs, wooden seating, and durable place settings — and then sprinkle the table with citrus, wildflowers, and herbs from your local farmer's market. Drape patterned blankets over every few chairs to keep your guests comfortable if the temperature starts to dip.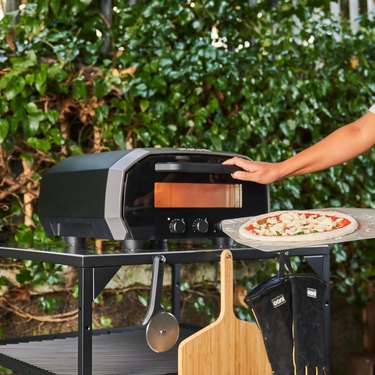 You've invited your people over for a pizza party, so the caliber of your pie is key. With bubbly drinks and apps well consumed, your guests will be ready to settle in for the sunset with a slice (or two, or three).
Get creative with savory and sweet toppings in all shapes, textures, and colors, served raw or roasted right alongside your dough in the Ooni Volt 12. The indoor-outdoor electric pizza oven uses high heat to make Neapolitan-style pies (hello, gooey mozzarella and pillowy crust) in just a few minutes, so you can take on the role of at-home chef or let your crew customize personal pizzas without missing out on the party.
Plus, the Volt 12 is portable and approved for use indoors, so you don't have to call California home to cultivate a backyard-party vibe as you feast on the freshest 'za. And it's super easy to clean, which you'll appreciate when it's time to wind down.
4. Keep the ambiance alive all night.
Encourage relaxation and connection with twinkle lights and candles strewn throughout your space. As night falls, the warm lighting will shine on your Cali-Italian accents and create a sense of intimacy for your crew. Queue up your outdoor-friendly speaker with an easy-listening playlist — and don't forget to add a dance-inducing throwback or two, just in case.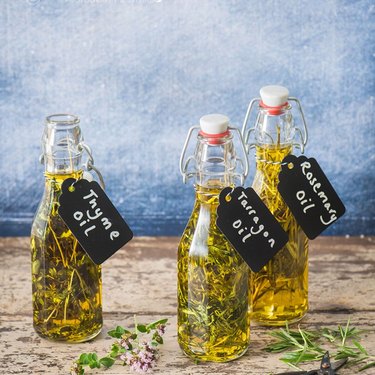 5. Don't let your guests leave empty-handed.
Earn a hosting gold star with a sendoff for each of your treasured guests. Offer mini bottles of olive oil, infused with some of your farmer's-market-fresh herbs, or try your hand at homemade biscotti for the ultimate ode to Italy. And with your pizza-party playbook perfected, don't forget to extend the invite for the same time, next week.