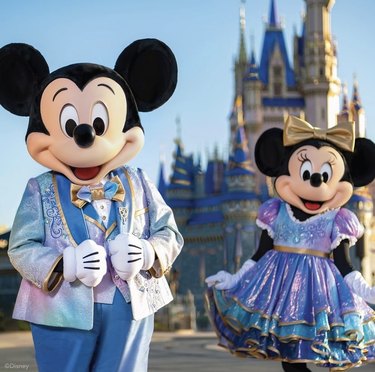 A visit to Walt Disney World in sunny Orlando, Florida, or Disneyland in equally sunny Anaheim, California, is an unforgettable experience. As a way of holding onto some of the magic, there's a good chance you've taken a souvenir or two home with you.
If you've held onto park memorabilia you received in childhood, or simply have some Disney products that you've kept over the years, you may be in for a surprise when you learn that the value of many Disney products has increased exponentially. The Family Vacation Guide did some research and discovered the Disney merchandise that may now be worth ‌way‌ more than what you bought it for, over a variety of different categories.
If you have a holiday collection of Disney ornaments to trim your tree, you may want to check and see if you have the Prince Charming ceramic statuette from 1985. Originally priced at just $5, the average price on eBay is currently $46.05 — a whopping 821% price increase. Other home products that have increased in value the most include a Walt Disney World cereal bowl and a Mickey Mouse sorcerer pen. Both are now considered vintage with the cereal bowl costing around $23 (up 1,086% from just $2) and the pen now going for $26.82, after originally being priced at just a dollar.
Spring cleaning your closet may prove to be lucrative if you happen to find a Mickey Mouse sew-on patch. Patches are still quite popular and can be sewn onto jean jackets or bags, and a Mickey Mouse patch has increased in price 1,222% from $1.25 to an average of $16.53. You've struck gold if you've got a 1985 Donald Duck bendy toy, especially if it's in good condition. The average price on eBay for one is currently $45.52. That's quite a jump from $2!
Finally, if you collect Disney pins, you know that many of them hold immense value and are true collectibles. If you're lucky enough to have Little Mermaid pin #36939 from 2005, you've got a pin that is now worth over $900. Up 3,512% from $26.26, the current average eBay price is $948.60. However, there's one piece of memorabilia that tops them all. The most expensive piece of Disney merchandise is an original poster for Splash Mountain, the log flume ride at Walt Disney World, that sold on eBay for $15,000.
Whether you're looking to make some extra cash on eBay, or you're just curious to know more about the value of Disney products — you can find the full list of products researched here.