Do you like some vintage style at mealtimes? Then consider investing in Salem China dinnerware. Salem China is an early 20th century maker of china from Salem, Ohio. It's not made today, but its styles have timeless appeal. Whether you like traditional china, classic, country or mid-century modern, Salem China has a variety of styles that have survived for a half-century or more. This style of dinner ware can be an inexpensive way to add some fun to your mealtimes. And if you keep them in good condition, you may be able to resell them later.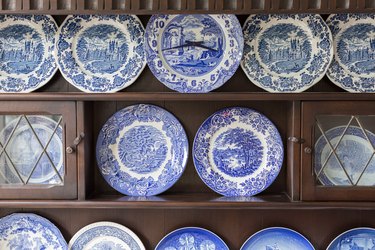 Value
You can find a single dinner plate in good condition for around $10 or less, or you can pay over $50 for some 1950s wedding-style plates.
Depending on style and condition, Salem China pieces are worth something. At one auction, a complete 12-piece set of 1951 Princess Margaret dishes sold for $225 in 2014. Even a fairly plain set of translucent white dishes sold for $45 at an auction in 2014. Today, Salem China pieces can be found on eBay, Etsy, Robbins Nest and Replacements Ltd.
History
The Salem China Company of Salem, Ohio, was founded in 1898 to manufacture hotel dishes, but it quickly shifted to more creative styles of dinnerware, novelty items and souvenir dishes. Ownership changed in 1918, and manufacturing continued until 1967.
In 2017, the large, brick factory that once churned out the plates, cups and other dinnerware was destroyed in a fire. The company continued to sell and service china until 1999. At the time of the fire, the factory was used for storage for a church envelope company.
From the 1930s through the '50s, Salem had a way of identifying the age of its china using a series of numbers and stars stamped on the back, with numbers representing the year the piece was made, and stars indicating the quarter of the year. The Salem Historical Society Museum has an extensive collection of the vintage china, with rare pieces bearing paintings of primitive deer. The gift shop still sells Christmas-themed china.
At its prime, Salem churned out millions of pieces of ceramic wares each year, starting with processed clay which was then molded into dishes. The process also included decorative decals and spray glazes. Salem made 520 patterns in 50 shapes. Its colored glazeware, Yukon Yellow, was a Salem original.
Imperial Service Plates have wide, brightly colored rims covered with a a lace-like 23 karat gold filigree. The plates are elegant, and can still be found on eBay for affordable prices ($1 and up).
Collectables
The Cooper Hewitt Smithsonian Design Museum in New York has a collection of Tricorne by Salem. These art deco-style, triangular-shaped plates, saucers and bowls are white with orange rims.
Designer Vicktor Schreckengost, whose name adorns the back of some Salem pieces, created some distinctive shapes for Salem, according to Laurel Hollow Park, a website devoted to the history of Ohio River china manufacturers. Besides Tricorne, he created Free Form, a modern design from the 1940s and '50s.
Schreckengost Salem China pieces can also still be found for sale. Salem's Simplicity salt and pepper shakers, resembling space capsules and designed by Schrekengost, are priced at $100. A Simplicity gravy boat is also priced at $100.
If you like Schreckengost's sleek, modern styling for Salem, then look for—along with Tricorne and Free Form—the names Victory, Hotco, Symphony, Lotus Bud and Constellation. Collectors of fine china and historical, vintage tableware might also consider the book Vicktor Schreckengost: Designs in Dinnerware, by Jo Cunningham.