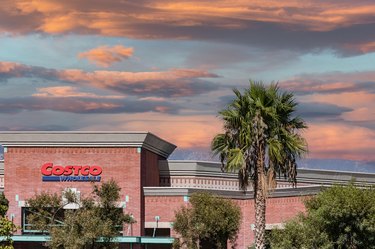 What's made of sugar, spice, and everything nice? Hot honey, of course. The condiment has become extra popular in recent years, and no wonder — it's packed with flavor and delicious on everything. You can also currently buy it at Costco, giving you an excellent reason to stop by the warehouse.
The product, which is produced by Savannah Bee Company, is made with habanero and Scotch bonnet peppers. Each 24-ounce bottle costs $10.99 at Costco, which is a steal considering the same item costs $29 on the company's website. (But if it's within your budget, we definitely encourage direly supporting small businesses whenever possible!)
According to the packaging, the condiment is a pure wildflower honey infused with Scotch bonnet powder and habanero oleo resin. The container is also a squeeze bottle, making it easy to control how much sticky goodness you add to your food.
Now, if you're a die-hard fan of Mike's Hot Honey, you might wonder how this compares. According to Instagram users, the Savannah Bee Company's version is not as spicy. However, the 24-ounce bottle is larger and cheaper than Mike's Hot Honey, so some people have been using it as a marinade. (Yum.)
You can call your local Costco to see if it has Savannah Bee's Hot Honey in stock. The item number is 1615722.
Hot honey is a popular condiment for fried chicken and pizza, but why stop there? Here are some ideas for serving the sweet and spicy sauce:
Add hot honey to homemade BBQ sauce
Use it as a marinade for baked salmon
Mix it into tea or hot chocolate for an interesting kick
Toss it with homemade granola before baking
Stir it into a cocktail
Serve it with cornbread
Drizzle it on cheese
Another option is to make it yourself. Check out this hot honey recipe by Good Food Baddie.