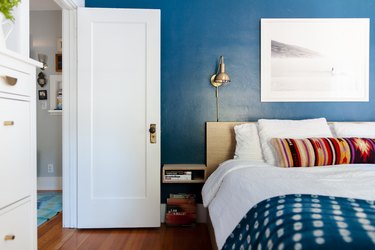 Below, Amanda explains the psychology behind this, but first shares the paint colors you might want to consider to add more value to your home.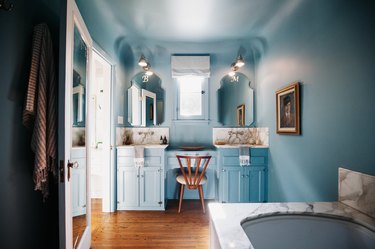 ‌This excerpt has been edited slightly for clarity.‌
‌Laurie Grossman:‌ I heard that you had mentioned that there are paint colors that could potentially help a home sell for thousands more, and I find this to be fascinating. So I'd love to know what those paint colors are and why these certain paint colors add value. What's the psychology behind it?
‌Amanda Pendleton:‌ Yeah, it's pretty wild, because when you think about it, paint is a relatively easy and inexpensive change, but our study found that home buyers were particularly sensitive to paint colors and how they valued homes. So I'll give you the results of Zillow's latest interior paint color analysis. It finds that homes that have light blue bathrooms could sell for nearly $4,700 more than expected. Homes that have dark blue bedrooms can sell for nearly $1,500 more. Homes with black front doors can sell for about $6,500 more than similar homes. And homes that have a slate blue, a gray blue, chalky blue color front door can sell for about $1,500 more than similar homes.
‌AP:‌ I know you asked why, which is a great question. And our behavioral scientists believe it's because home buyers are navigating a really complex environment with a lot of uncertainty. We don't buy homes every single day, so our brains are trying to take in and process a lot of information about something that we're not really familiar with, and that's why certain cues color are more impactful in our decision making.
‌LG:‌ It is so fascinating, and I feel like I've heard the black front door as being popular. But you said powder blue or light blue in a bathroom?
‌AP:‌ It's that sky blue color, that pale blue.
And I think the color blue is just associated with these feelings of calmness and tranquility and that's likely why it's so popular in bathrooms and in bedrooms. Light blue, of course, just visually opens up a space, gives that feeling of airiness, and particularly in the bathroom, it evokes spa-like vibes, and everybody's going for that right now.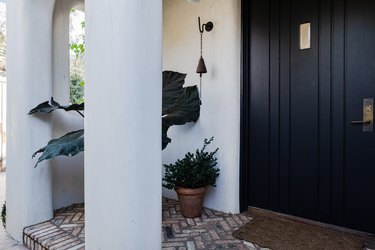 Listen to the Full Episode