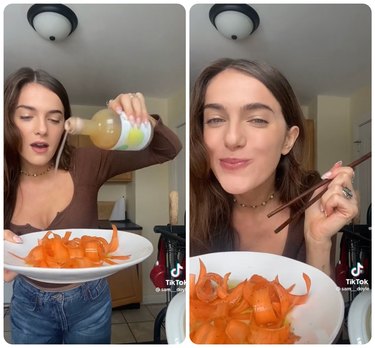 If you're looking for a new healthy snack to add to your rotation, you may want to check out TikTok — especially if you love carrots. Carrot salad is currently trending on the platform, and this healthy, tasty, hormone-balancing side dish couldn't be easier to make.
There are a few different variations of the salad that are being shared, but the main ingredient is, of course, carrots. Creator @sam__doyle cuts a few small carrots into ribbons and adds olive oil, apple cider vinegar, lemon juice, salt, and pepper. Creator @edenvonweiss swaps pepper for turmeric and adds a sprinkle of nutritional yeast, while creator @wellnesswithlinds include melted coconut oil in their recipe.
It seems like there's no right or wrong way to make this healthy snack, as long as there's some sort of oil, vinegar, and seasoning added to the carrots. For example, creator @that.veganbabe adds sesame oil, rice wine vinegar, lime juice, and sesame seeds to their carrot salad. Yum!
In addition to carrots simply being a healthy vegetable, adding carrots to your diet can also help with hormone balance, as the fibers in carrots can help the body flush excess estrogen.
Note from the writer: I personally eat carrot salad and when I'm short on time, or just feeling lazy — I buy a bag of shredded carrots at the grocery store, instead of purchasing whole carrots and making ribbons. Sure, the cost is a little higher, but I'm all about convenience and whatever is going to help me eat more veggies. I'll take it!