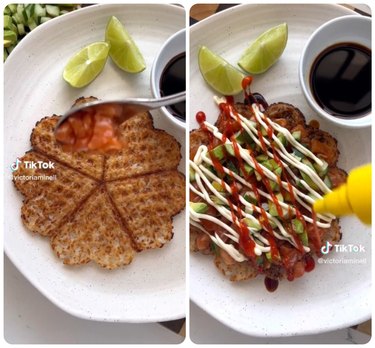 If you're a fan of crispy rice, savory rice, and/or all things sushi, you're going to ‌adore‌ crispy rice sushi waffles. The dish is currently trending on social media, and truthfully, it's easy to see why.
Initially shared by TikTok user @victoriaminell, crispy rice sushi waffles are made by cooking sushi rice in a lightly greased waffle maker. This step is already brilliant on its own, as it offers a simple and mess-free way to make crispy rice.
The next step is to top the waffle with your favorite sushi fixings. For @victoriaminell, this includes raw sushi-grade salmon, chopped avocado, diced cucumber, kewpie mayo, sriracha, and sesame seeds. You can totally customize this part, however.
From there, enjoy the waffle with your hands or a fork, just as you would a standard waffle. You could even slice up the waffles and serve them as appetizers.
On TikTok, users are drooling over the video, which has 14 million views and counting. "I've never craved something I've never tried so much," commented one person. "Perfection," said another user.
Now, if you're a not a fan of raw fish, you can still enjoy the recipe. Try using cooked salmon, as @victoriaminnell did in a subsequent video. It's a tasty way to enjoy the same flavors, but without the raw fish.
Time to break out the waffle maker!
Other topping ideas for crispy rice sushi waffles:
Feel free to switch up the toppings based on your preferences and what you have on hand. Here are some tasty suggestions:
Cream cheese
Seaweed flakes
Microgreens
Shredded carrots
Diced mango or pineapple
Scrambled egg
Fish roe
Eel sauce
Spicy mayonnaise
Soy sauce or tamari
Sliced green onions
Sliced daikon radish
You can also try using smoked salmon, tofu, or imitation crab meat instead of raw fish.