During the warmer months, no-cook recipes can be an actual lifesaver. That's why we're loving this easy chimichurri bowl, which features — wait for it — cocktail shrimp. The ingredient, which is often sold in the frozen section of the grocery store, is already cooked and peeled, so all you need to do is thaw it before eating. This means you can prepare a quick summer dinner without even touching the stovetop.
The recipe also calls for cooked rice or quinoa, making it the perfect dish for using up leftovers. You can use the grains cold or reheat them in the microwave, if you prefer. Another option is to use microwavable rice.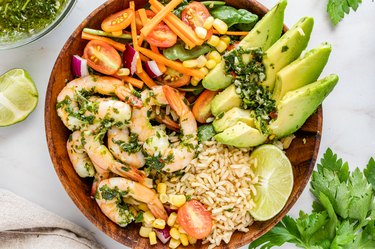 However, the real star of the show is the chimichurri sauce. It's a staple in Argentinian and Uruguayan cuisines, and it's bursting with fresh flavors. Our version is made with cilantro and parsley, but you can make it with just parsley if cilantro isn't your thing.
Depending on the size of your bowls, this recipe yields two to three servings.
Things You'll Need
1 cup fresh cilantro

1 cup fresh parsley

3 garlic cloves

3 tablespoons red wine vinegar

Juice of 1/2 lime

1 teaspoon salt

1/2 teaspoon ground black pepper

1 teaspoon dried oregano

1/2 teaspoon dried red pepper flakes

1/2 cup olive oil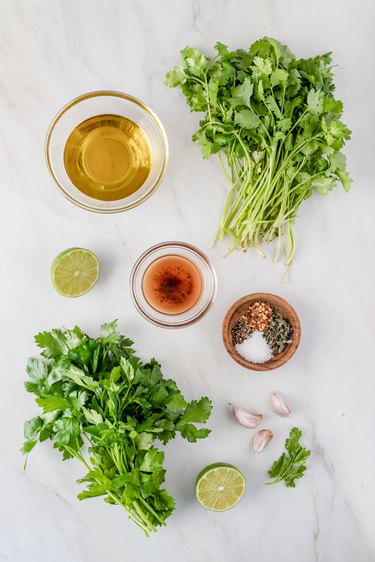 Step 1
In a high-powered food processor or blender, combine all the ingredients except for the olive oil. Once the herbs and garlic cloves are chopped up, slowly add the olive oil. Blend until combined.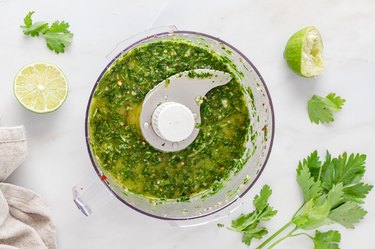 Step 2
Taste and add more spices, lime juice, or red wine vinegar as needed.
How to Make Chimichurri Veggie Bowls With Shrimp
Things You'll Need
16 ounces cooked and peeled cocktail shrimp, thawed

1 cup brown rice or quinoa, cooked

3 cups baby spinach

1/2 cup shredded carrots

1/4 cup canned corn

1/4 cup red onion, diced

1/2 cup cherry tomatoes, halved

1 avocado

Lime, for garnish

Tip
The vegetable amounts listed above are simply guidelines. Feel free to use more or less of certain veggies, depending on your preference or what you have on hand. Other tasty options include chopped kale, shredded red cabbage, canned chickpeas, and sliced cucumbers.
Step 1
In a bowl, toss the cocktail shrimp and 1/2 cup chimichurri sauce. You'll have chimichurri left over.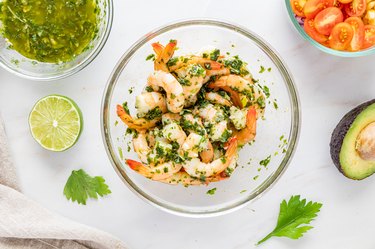 Step 2
Divide the brown rice, shrimp, vegetables, and avocado between two bowls. Top with extra chimichurri and fresh lime juice before serving.