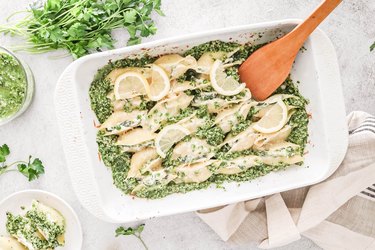 There's a lot to love about this recipe for spring stuffed shells. For starters, the shells are filled with a creamy mixture of ricotta and gruyere cheese. They're also stuffed with broccoli, peas, and spinach, resulting in a mouthwatering veggie-packed dish.
However, the real star of the show is the lemon parsley pesto. It's a deliciously unique sauce, as it uses parsley instead of basil and sunflower seeds instead of pine nuts. These ingredients are then blended with fresh lemon juice and garlic to create a bright, fun alternative to the standard basil pesto.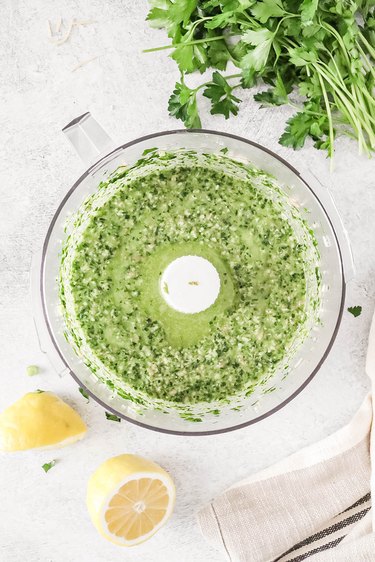 One batch of spring stuffed shells makes about four servings. Pair this vegetarian dinner recipe with a side salad, crusty bread, or all of the above.
How to Make Lemon Parsley Pesto
Things You'll Need
2 cups fresh parsley (about one small bunch)

1/2 cup Parmesan cheese, grated

1/3 cup raw sunflower seeds

1 cup extra-virgin olive oil (plus more as needed)

2 garlic cloves

3 to 4 tablespoons fresh lemon juice

1/2 teaspoon salt

1/4 teaspoon ground black pepper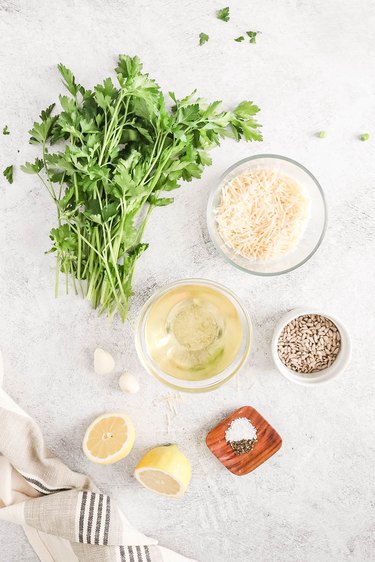 Step 1
Roughly chop the parsley leaves and stems.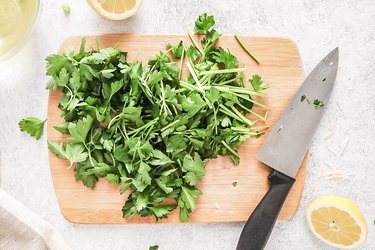 Step 2
In a food processor, combine the parsley, sunflower seeds, Parmesan cheese, and garlic cloves. Pulse until the ingredients are finely chopped.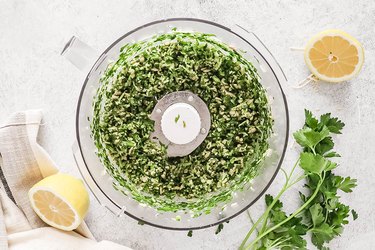 Step 3
Add the lemon juice, salt, and black pepper. As the food processor is running, slowly add the olive oil until the pesto reaches your ideal consistency. It can be as chunky or as smooth as you'd like.
Taste and add more lemon juice, salt, or black pepper as needed.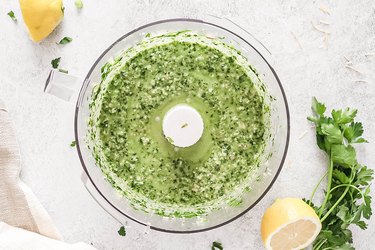 How to Make Spring Stuffed Shells
Things You'll Need
24 pasta shells

4 cups baby spinach

1 cup broccoli, chopped into tiny florets

1 cup frozen peas

3 scallions, chopped

2 cups ricotta

2 eggs, lightly beaten

1 1/2 cups gruyere cheese, grated

1/2 cup Parmesan cheese, grated

1 teaspoon garlic powder

1 teaspoon salt

1/2 teaspoon ground black pepper

Butter or oil

Ice bath

Lemon parsley pesto
Step 1
Preheat the oven to 375 degrees Fahrenheit. Grease a large baking dish, about 9x13 inches, and set aside.
Cook the pasta according to the package's instructions.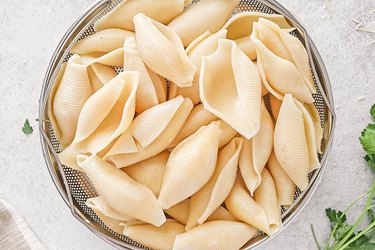 Step 2
Prepare an ice bath and bring a pot of water to a boil. Add the broccoli and peas and blanche (cook) for three minutes, or until both vegetables are bright green.
Transfer the broccoli and peas to an ice bath, then strain in a colander.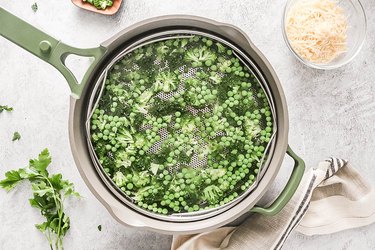 Step 3
In a skillet, warm one tablespoon of butter or oil. Cook the spinach until wilted, about three to five minutes, adding more butter or oil as needed.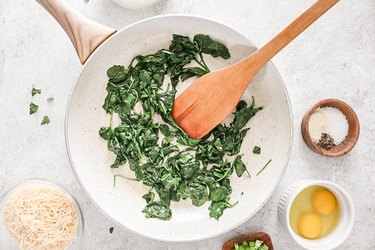 Step 4
In a large bowl, combine the ricotta, eggs, cooked spinach, broccoli, peas, scallions, one cup gruyere cheese, garlic powder, salt, and ground black pepper. Mix well, making sure to evenly disperse the eggs.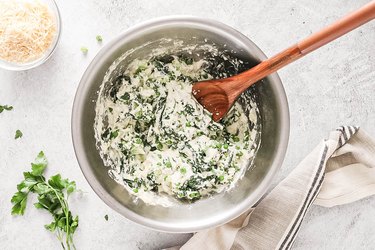 Step 5
Fill the pasta shells with the ricotta mixture and place in the greased casserole dish. Top with the remaining 1/2 cup of gruyere cheese and 1/2 cup of Parmesan cheese.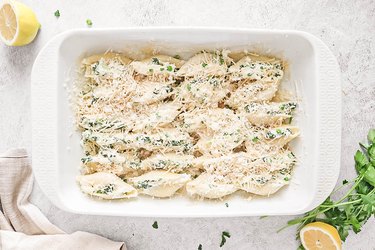 Step 6
Loosely cover the dish with aluminum foil. Bake for 20 minutes, then remove the foil and bake for another five to 10 minutes, or until the cheese is bubbly and turning golden brown. Let cool five minutes.
Spoon the parsley pesto onto the shells and garnish with lemon slices, if you'd like. You can also drizzle lemon juice onto the finished shells. Serve immediately.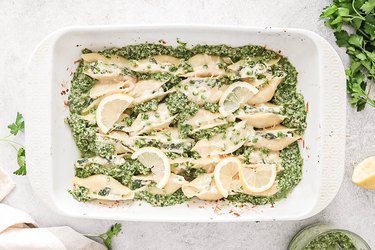 Alternatively, you can serve the shells as is and spoon the pesto on top of each serving.