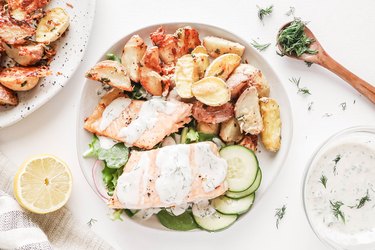 If you're looking to update your repertoire of weeknight meals, try this healthy recipe. It features flakey baked salmon paired with crispy potatoes and creamy dill dressing. Together, the combo is delightfully fresh and flavorful, making it perfect for spring.
It also doesn't hurt that baked salmon is one of the most nutritious meats you can eat. It's teeming with healthy fats and lean protein, two nutrients that promote satiety and fullness. Moreover, baked salmon is easy to prepare, which is always a plus in our book.
This recipe yields two servings. Here's how to make it:
How to Make Dill Dressing
Things You'll Need
1 cup plain yogurt

1/4 cup chopped fresh dill

1 to 2 tablespoons lemon juice

1/2 to 1 teaspoon salt

1/2 teaspoon ground black pepper

1 teaspoon garlic powder

Pinch of ground paprika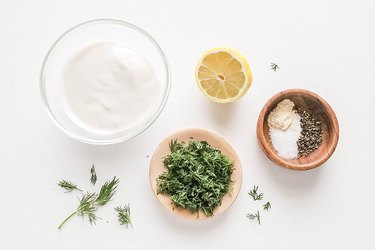 Step 1
In a bowl, combine all the ingredients. Taste and adjust the ingredients as necessary.
Cover and chill in the refrigerator for 20 to 30 minutes to let the flavors develop.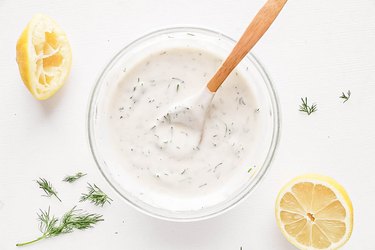 How to Make Baked Salmon with Crispy Potatoes
Things You'll Need
1 pound baby potatoes

3 tablespoons avocado or grapeseed oil

1 cup grated Parmesan cheese

1 teaspoon onion powder


1 teaspoon garlic powder

1/2 to 1 teaspoon salt

1/2 teaspoon ground black pepper

2 medium or large salmon fillets

2 to 4 tablespoons chopped fresh parsley, optional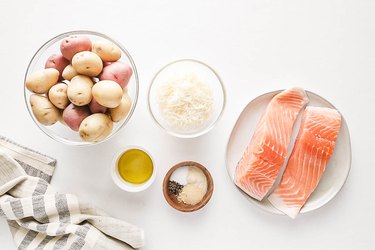 Step 1
Preheat the oven to 400 degrees Fahrenheit. Line a large baking sheet with parchment paper.
Slice the baby potatoes in half, lengthwise.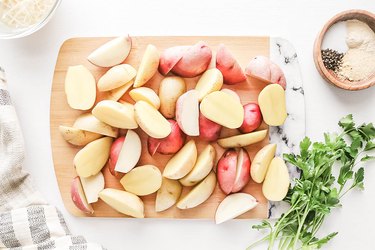 Step 2
In a large bowl, combine the sliced potatoes, 2 tablespoons oil, 1/2 cup Parmesan cheese, onion powder, garlic powder, salt, pepper, and parsley, if using. Toss until the potatoes are coated.
Step 3
Spread the potatoes onto the baking sheet in a single, even layer. Bake for 15 minutes or until the potatoes are nearly done.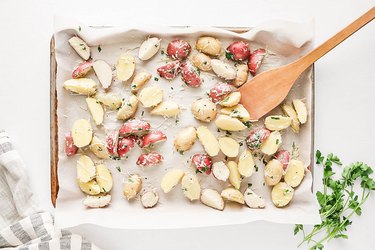 Step 4
Remove the potatoes from the oven. Push the potatoes toward the edges of the pan, creating an empty space in the center.
Add the salmon fillets to the center of the pan. Drizzle with 1 tablespoon oil and season with salt and pepper. Sprinkle the remaining Parmesan cheese on top of the potatoes.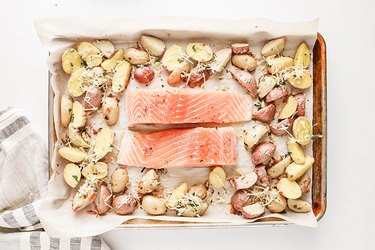 Step 5
Bake for 15 minutes or until the salmon is opaque and reaches an internal temperature of 145 degrees Fahrenheit.
Tip
If the salmon is not fully cooked, simply remove the potatoes and return the salmon to the oven.
Step 6
Serve the baked salmon and crispy Parmesan potatoes with fresh leafy greens and vegetables of your choice.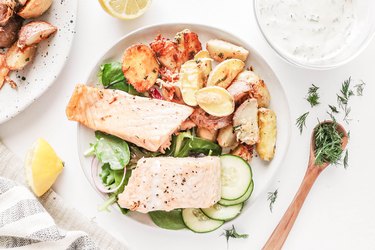 Drizzle the dill dressing on the salmon, potatoes, or both!