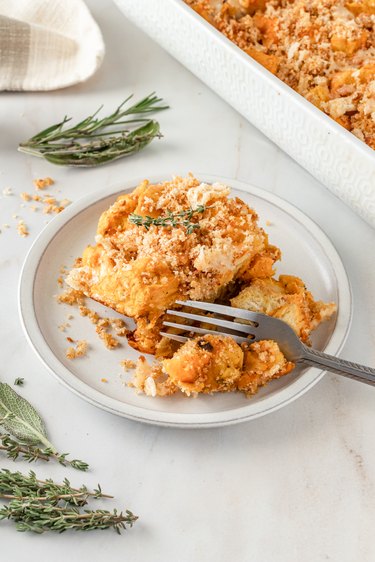 It's fall, y'all! With the new season in full swing, it's time to obsess over ​all​ the autumn ingredients. This includes pumpkin, of course, along with its delicious relative: the butternut squash. But why stick to just one? Thanks to this mouthwatering squash bake, you can enjoy both in every bite.
You can think of this recipe as a savory bread pudding. It calls for chunks of French baguette, butternut squash tossed with seasonal herbs, onions, and mushrooms that have been sautéed in earthy cinnamon. The mixture is then soaked in a creamy (and cheesy) pumpkin sauce and baked to perfection, resulting in a hearty autumnal meal.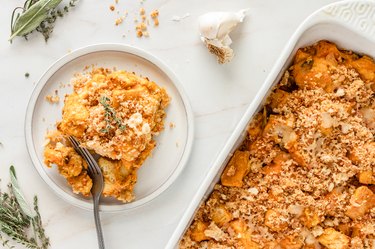 One batch of this savory squash bake yields six to eight servings, depending on the size of each portion. Keep reading for the full recipe, plus tips for making it your own.
Things You'll Need
6 to 8 cups stale French baguette, cut into 1-inch cubes

1 medium white or yellow onion, diced

1 small butternut squash, cubed

2 cups mushrooms, sliced or chopped

2 garlic cloves, minced

6 large eggs

15-ounces canned pumpkin puree

1 cup half-and-half

3/4 cup vegetable broth

1 teaspoon salt

1/2 teaspoon ground black pepper

1 teaspoon ground cinnamon

2 tablespoons fresh sage, chopped

2 tablespoons fresh rosemary, chopped

2 tablespoons fresh thyme, chopped

3 cups smoked Gouda cheese, shredded

Unsalted butter or oil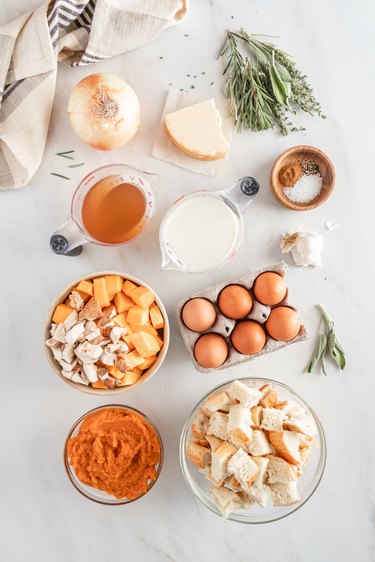 Tip
This recipe is vegetarian. If you'd like to include meat, replace the sliced mushrooms with cooked sausage or ham.
Step 1
Preheat the oven to 350 degrees Fahrenheit. Grease a large casserole dish and set aside.
In a large pan over medium heat, warm about two tablespoons of unsalted butter or oil. Cook the onion, butternut squash, mushrooms, and cinnamon for seven to 10 minutes, or until the squash is just about fork-tender. Add the minced garlic and cook for one minute.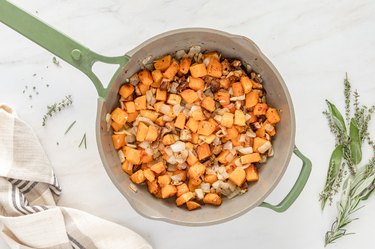 Step 2
In a large bowl, toss the cubed bread, butternut squash mixture, and chopped sage, rosemary, and thyme. Feel free to use more or less of a certain herb, depending on your taste buds.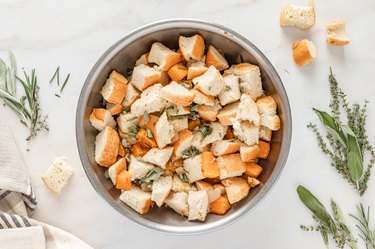 Step 3
In another large bowl, add the half-and-half, broth, pumpkin puree, salt, black pepper, and smoked Gouda cheese. Whisk until the pumpkin is fully combined with the liquid.
Whisk the eggs in a separate smaller bowl, then add it to the liquids until just combined. Avoid over-mixing the eggs.
Tip
If your broth is already very salty, feel free to skip the added salt. You can also used regular Gouda, cheddar, or Parmesan, or a combination of different cheeses.
Step 4
Add the bread mixture to the liquid in batches, tossing each time to combine. Every piece of bread should be soaked; you can let everything sit for a few minutes to help with this.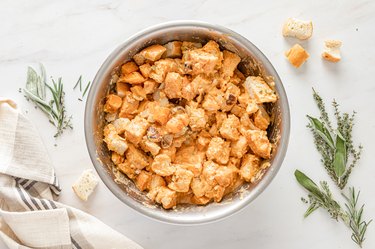 Step 5
Transfer the mixture to the large casserole dish. Pour any leftover liquid over the bread. Cover loosely with foil and bake for 45 to 50 minutes, or until the top is a light golden brown.
About 15 minutes before the casserole is ready to come out of the oven, add one cup of shredded smoked Gouda on top. You can also add a buttery breadcrumb mixture for extra texture and flavor. (To make it, simply combine one cup plain breadcrumbs and two tablespoons melted butter.)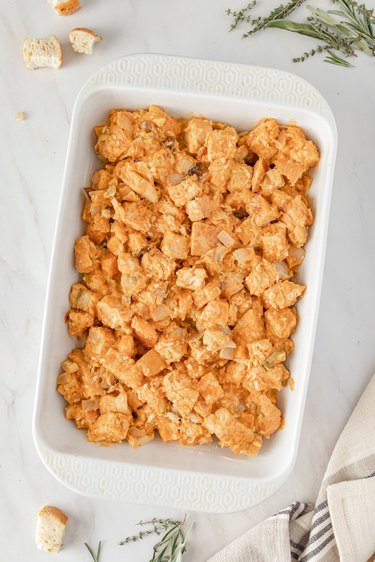 Serve warm and top with fresh herbs, if desired.